Hi people,
After having discussions with Flen and a conversation with Lord Pain directly, the wiki has decided to unpartner with CPAPP. We felt it was necessary to discuss why, hence the reason for this post.
Our investigations into CPAPP posts have led to a great deal of concern that CPAPP is an organisation that promotes values that have no place in armies today, as well as allowing and encouraging the presentation of opinions as facts and factually incorrect information being posted to the CPAPP website. Furthermore, we also investigated the article apparently written by Mchappy for CPAPP. This is what I'll start with.
It has become apparent that this article, supposedly written by Mchappy, clearly wasn't written by him, going by Mchappy's own claims, as well as this confession from Lord Pain himself.

Furthermore, we also had concerns to raise over this post, claiming Icy Fresh, founder of the CPA back in 2006, founded the army before Oagalthorp rather than the 3 days after previously believed. This claim was quickly proven false by our research. Whilst it is true that the CPA website was in use before September 29th [ACP's founding date], the screenshot below definitively proves that the army itself was only founded on October 1st/2nd, a few days after ACP as originally believed.
The usage of "in the first night" on the second post in this screenshot clearly shows that the CPA was founded either October 1st or 2nd 2006. You can't have a day active as an army before the "first night," completely disproving this article.
This revelation led us to strongly question the moderation of content by CPAPP's upper management.
I had a conversation with Lord Pain on both of these subjects. I'll share part of our DMs.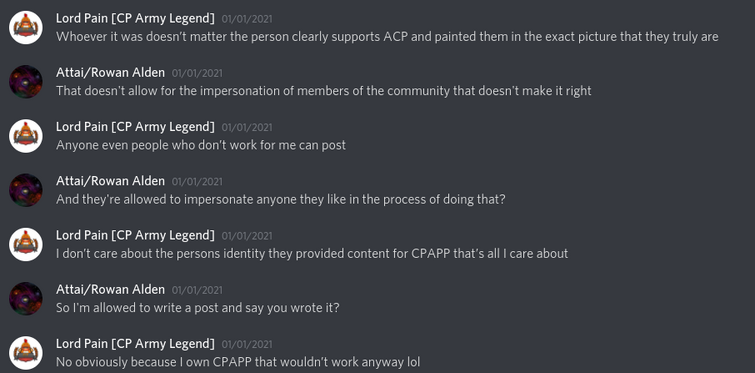 I believe this should highlight the crux of the problem. We can't in good conscience support an organization that finds the impersonation of other members of the community acceptable so long as it provides said organization content. We don't consider this fair to the people impersonated [Mchappy] nor fair to the community that they should be misled in such a fashion.
Personally, as a strong believer in human rights and by extension freedom of speech, I have a great deal of respect for CPAPP at base as an organization dedicated to promoting and providing a platform for freedom of speech and before doing my own research was strongly opposed to unpartnering on this basis.
However, unless CPAPP's upper management changes their attitude substantially, we will not be partnering with them in the immediate future.
In other news, we will finally add bios for the 2020 Legends inducted by CPAH in the next few days. Apologies for the delays on this.
We are also discussing holding some votes of our own on one or two Legends whom we feel may deserve the title but weren't awarded it for understandable reasons by CPAH. More on this to follow depending on what happens.
Happy editing, updates to follow,
Rowan/Annon, on behalf of everyone here at the CPA Wiki team.