I wasn't anticipating having to write another update post so soon, but there have been developments in the past 24 hours that I feel obliged to cover now rather than waiting until next month.
This is a very long post but it does contain important information, so please bear with it. Also, the images may be dodgy quality, you're welcome to DM me directly for a better quality version.
First, we have some news on WikiProjects. As previously discussed, progress on all 3 projects has been slow because our staff is very busy with other army commitments or with the [obviously more important] commitments real life brings. After some developments which I'll get into shortly, Dino and I have decided to postpone the CPOAL and Army Media WikiProjects for the time being. As of now, our entire staff has been instructed to focus all efforts on the Article Restoration Project. We hope to finish this internally by the end of the year. From there, Dino will look at reopening Army Media.
The future of the CPOAL project is uncertain, again because of developments that came about last night after we had gone live with the monthly update.
This development has also resulted in action against Legoman, one of the wiki's most infamous staff members who started out on the wiki with a joke page and worked his way up to Administrator. He was liked among wiki staff, including by me. His work on the wiki has been extensive. He holds 1st place on our badge leaderboards. He was until recently one of the wiki's most trusted staff members. However, we made the decision to demote him to content moderator late last night after a series of events behind the scenes.
Some time ago, we announced internally that we would begin regular, unannounced reviews of staff edits. We intended to use this system if we suspected any staff members were falling into the trap of writing with bias, from which we could talk to the staff member and help them rectify the situation so that they'd understand how to avoid it in future.
After looking over Legoman's wiki page [the serious page, not the joke page], I had some concerns and decided to review the page more thoroughly. I ended up spending more than 2 and a half hours editing the page. In the end, the changes I had made mostly happened because Legoman had portrayed an event in a way that looked favourable for him, either by emphasising his role in events [and by extension minimising the role other people played], glossing over his losses, etc.
Ultimately, it all boiled down to the fact that Legoman was attempting to embellish his own history. Anyone who's heard of Legoman knows how badly he wants S/M Legend, and after discussion with Dino, we agreed his edits were a clear attempt to increase his chances. But, beyond this incident we weren't aware of any other issues, so after giving him a lot of feedback on what not to do, it was decided we'd let the incident go with the warning that there would be demotions if it happened again. This was the overall note I gave Legoman on the subject:
Needless to say, it happened again.
Last night, we announced that we were declaring the WB vs VA war as World War VIII. As part of this, we had to go through all pages on the war and rename the war. This meant I finally came across the pages for the Western Bloc and Vengeance Alliance.
Throughout the war, Legoman has been largely inactive, ducking out of leading battles and attending battles for PIC. So, I was very surprised to be greeted with this: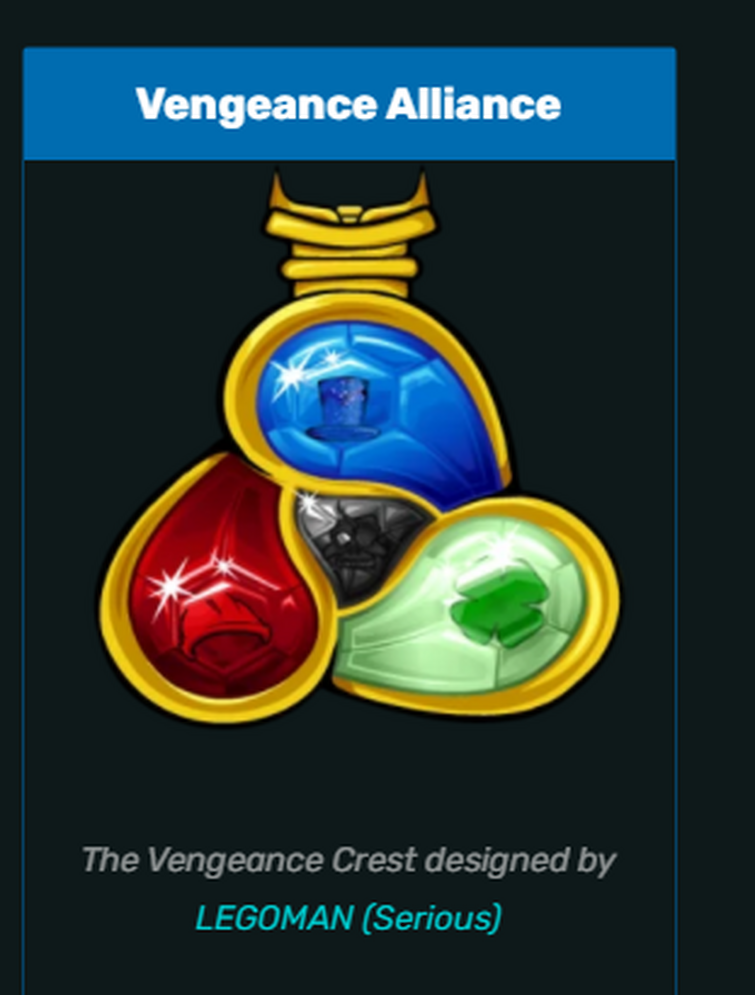 After the amount of time I had spent editing Legoman's page and giving him feedback, I was beyond shocked to see that I had been blatantly ignored. After being missing for a month, Legoman had inserted himself into the Vengeance Alliance page, despite having next-to-no involvement in the alliance due to his inactivity. I decided to investigate to confirm these suspicions and found that I was correct. The crest had been created barely half a week ago for a war that was more than a month old.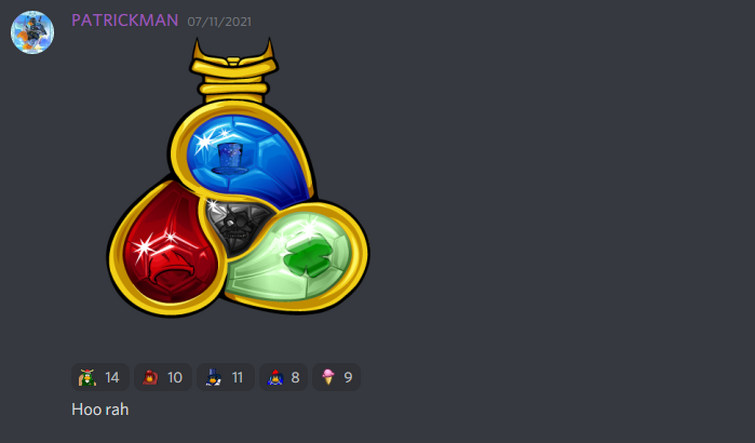 Vengeance Alliance has never used this symbol as a logo in any way to represent the Vengeance Alliance. For those curious, I was able to find three different flags and logos which could have been legitimately used instead for the Vengeance Alliance, such as the two different server icons the VA Discord server has used along with an additional logo that I received upon enquiry.
It was very clear that Legoman was again attempting to insert himself into the page to make it appear as if he contributed substantially to the alliance when he did not.
This discovery was the straw that broke the camel's back. Lego's blatant attempts to distort and manipulate the truth in his favour were now evident to us. Legoman received a series of messages from me making my frustration clear and, after consulting with Dino, we agreed to demote him to content moderator.
With that all being said, the situation should be clear now.
We are still dealing with the repercussions of this discovery. We decided to conduct a review of all of Legoman's edits from the present day backwards. I've currently looked at all of his edits between July 2021 and today and identified 20 pages that are going to need work. It's impossible to say how many more I'll find as I search through his edits. I still have everything before July to sort through, dating back to Legoman's original joke page in October of last year.
Legoman had been the leader of the CPOAL WikiProject. His dismissal led to us suspending the WikiProject, which prompted the changes announced at the start of this post.
We are still considering Legoman's future with the wiki. We had kept him on as content moderator because we felt his past work shouldn't be ignored or denied, but as we have now identified 20 pages on which Lego has made biased comments or similarly biased the page, this is uncertain now. It isn't fair to say we're keeping Lego on for his past work when his past work is just as biased as his recent edits have been. We'll provide an update on this when we've made a decision.
That's all we have to say for now. We're sorry for any inconvenience caused by these changes, but it was necessary to protect our integrity as an organisation and to prevent any further bias.
Hopefully, the next time we have an update it'll be on a much cheerier note.
Until then,
Rowan and Dino