The
Army of Club Penguin
was a legendary Club Penguin Army, created by
Oagalthorp
on September 29, 2006 on the Miniclip forums. One of the oldest and largest armies, The ACP is regarded by many to have been the greatest Club Penguin Army of all time.
History
Main Article: Army of Club Penguin/History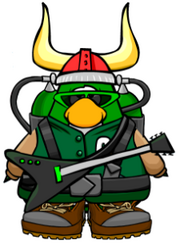 The Army of Club Penguin was founded on the Miniclip forums by the legendary Oagalthorp, on September 29, 2006. It was created for the purpose of defending Club Penguin during a fictional war between Big Balla and Vital Viper after it was discovered that the results of a virtual election were not accurate. During the "war", ACP sided with Big Balla.

The Army of Club Penguin has had countless successful generations as well as several failed generations.
End of The ACP
On 30 January 2017, it was announced that Club Penguin would be shutting down later that year. The shutdown occurred on 29 March 2017. The next day, Oaglathorp himself created a post on the ACP website announcing the closure of the ACP, after almost 11 years. Thus one of the oldest and most legendary armies was gone. Oagalthorp's speech:
"'My name is Michael, as some of you may already know. If you've read the ACP Saga, you'll know that the ACP was founded September 29, 2006. Tell your grandkids about that date because it was the beginning of an era. We were giants and Club Penguin was our stomping grounds. From Mammoth to Breeze, from the dojo to the snow forts, we were a force. At our best we were the best, and we did it with pride and class. We were the pinnacle.
As memory of Club Penguin recedes, the digital fossils of this community—the Army of Club Penguin specifically and the army community it birthed generally—will drift away in a sea of ambient data. Yet it will always be here. This website and all of the times had within it—good and bad, funny and frustrating, elating and surreal—will remain, frozen in time, waiting for some internet anthropologist to one day find it and think "Damn, wasn't that something." I don't know if there's any significance in that.
Ok, enough of that waxing poetic bulls**t. Bottom line, this was a good thing and I'm glad it happened. We were all part of it, and it wouldn't be what it was without you.
-Oagalthorp
Until later,
March on."
A sad end to a big army which was an influence for about 10 years
Community content is available under
CC-BY-SA
unless otherwise noted.