Jurassic World: Dominion Dominates Fandom Wikis - The Loop
Play Sound
The Blue Miners Army (commonly abbreviated as BMA) was an influential army that managed to successfully reach large sizes in its prime. Created in 2010 by Light Troops founder loioluk4 and later revived for a second more successful generation in 2015 by DrMatt, the BMA managed to grow rapidly and earn its spot on the CPAC top ten consistently. It would rise to prominence in the year of 2015 and experience its "Golden Age" under DrMatt's leadership. Throughout 2015, the BMA would dominate the small/medium army scene. The Blue Miners Army would utilize "rogue penguins" and are generally regarded as one of the most influential rogue armies. Eventually in September of 2015, the army would officially shut its doors after struggling to recruit and grow its sizes. Despite various attempts at revival, the army remains at rest to this day.
History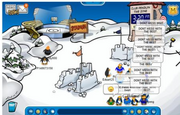 Creation and First Generation
The Blue Miners Army was founded on August 28th, 2010 by Ioioluk4 with co creators, RMSTitanic and Stepup 646. They were originally called "The Club Penguin Blue Army" and later transitioned into BMA (Blue Miners Army) in November of 2010. They were known as a powerful, fast rising army that began to consistently get 1st in SMAC. The first generation of BMA died shortly in January 2011 due to Ioioluk creating the legendary Light Troops. Very little is known about the first generation. The BMA is most commonly known for its successful second generation which would come later in 2015.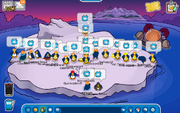 Revival and Second Generation in 2015
After remaining dead for almost five years, The Blue Miners army was revived by DrMatt in May of 2015. He had gotten permission granted by Ioioluk4 to recreate the site and chat. He led the army along with other leaders S Cargo 2, Tylund1 and later Aquabluejet4. The Blue Miners Army was originally recreated as a rebellion army against the Light Troops. DrMatt and a few others had recently stepped down from the Light Troops empire due to the corruption and mistreatment from Waterkid101. Though they were recreated as a rebellion army, they soon saw themselves as something much more and became a legitimate full time army. The beginning of the revival of the Blue Miners started out strong with their first comeback event hitting sizes of 25+ and it would make 8th on the CPAC top ten within its first week.
Temporary Shutdown and Setback
Unfortunately after a month of the recreation the army had shutdown for a few weeks. On July 9th, 2015 the Blue Miners Army reopened under a different leadership with Konrad, DrMatt, and soon later again Aquabluejet4, DrFlen and Aaronstone42. The army had struggled within it's reopening to see consistent sizes with sizes of 10-15+ but that all changed in August. The recruiting method changed, lines were being made and the ownership began to work as hard as ever to grow the army. The Blue Miners Army would make a name for itself when well the known popular Club Penguin Youtuber, "CPWorld" made a video on the army and CP Armies in general. This video left a big impact on the community and the Blue Miners Army.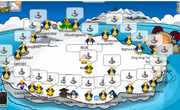 Rise to Prominence
The Blue Miners Army began to see a rise in sizes. They started hitting 25+ consistently during events and reentered as 9th on CPAC's top ten. During the 2015 Legends Cup, the Blue Miners Army hit sizes unlike ever before with up to sizes of 50+. Consistently beating opposing armies, the BMA were able to take down the well known Doritos who were at their peak of infamously multilogging and hitting sizes of up to 100+ at the time. The original match between both armies became invalid after someone under the suspicion from DCP was using a bot script.   Unfortunately during the semi finals, BMA had been defeated by WV who would go on to the finals. After losing out in the Legends Cup the Blue Miners Army would continue to be strong force and hit Top 5 on the Top Ten of CPAC until its eventual shutdown in September of 2015.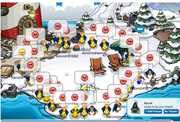 Official Shutdown
The Blue Miners Army came to an official end in September of 2015 due to the name being blocked on Club Penguin. DrMatt had announced the closure on September 5th, 2015. Recruiting was becoming harder and harder and the army was starting to struggle. Though they were short lasted, they proved themselves to be a powerful rogue army that is still highly talked about and remembered today. There have been numerous attempts at revival but none have never went through. The BMA's second generation would be regarded as its final and most successful generation.