History & Creation
Orignally, ClubPenguinArmy.com was created by Commando171, who is also the creator o
f Rebel Penguin Federation army in the Original Club Penguin .
The site was in collaboration with CP Army Central , which was back then ran by Bluesockwa1 and Blusockwa2.
CPA Website was mainly popular due to it's Army Map feature. The website provided a Map which showed which army owned which server on Club Penguin.
Original Website link was https://clubpenguinarmy.com
Recreation as CPPS Map
In early February, the entire team of CP Army Press, which was army central for CPPS armies in 2019, got together and re-created https://clubpenguinarmy.com. What marked it this time was it's dynamism and jurisdiction. 
This new CPA Website was not merely for CPR armies, but also for the entire CP Army Community. It covered nearly all the CPPSes in it's map, recreated CP Army Press under a sub domain and had their own CPA Wikipedia.
Website Screenshots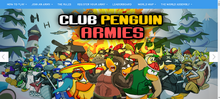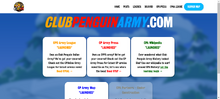 Community content is available under
CC-BY-SA
unless otherwise noted.