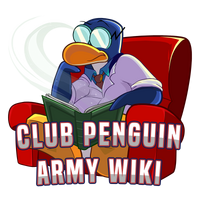 A polite reminder that we have a zero-tolerance policy in place regarding vandalism. Offenders will be permanently banned.


A further reminder that the only Legends listed here are the Legends inducted by the boards of leagues and media organizations specified on our Legends list page.

Furthermore, we are now hiring! Fill in the application here if you're interested in joining the team.

Have fun reading!
The founder of this Wikia was Clintos007, who retired from armies on November 29, 2009.
The Wikia has had eight bureaucrats throughout its ten years: Clintos007, Kirby12, Mixer2301, Jayden1092, DrFlen, Annon, Cobra, and Dino.
The Ice Warriors, Dark Warriors, Romans, Fire Warriors, GuGu Pengu Romans, and Aqua Warriors used to be one army called the Warrior Army.
Many army legends were inducted years after their actual induction class (i.e. Elmikey was inducted in 2014 for 2013).
The highest max size in army history was 193, a size achieved by the

Pirates

in 2019!
Elmikey is the only person in army history to technically be inducted twice for major legend (2013 and 2017), although his second induction was invalidated in 2020.
Updates and Announcements will be added here!
Templar Exodus
The Templar Exodus was a war fought between Templars and the New Viking Alliance in January of 2019. The war occurred after a group of Templars HICOM members left Templars and went to the NVA. The war resulted in the formation of the Winged Hussars and an escalation of tensions between Templars and EGCP.
Major Conflicts
- Second TCP-LGA War of 2022

Tournaments
N/A
Using the column below, you can create a page on this Wikipedia adding to more than 1000+ pages which are currently being edited and updated on weekly basis.

Let's do it:


The Club Penguin Army Wiki is not affiliated with Club Penguin, or the Walt Disney Company. We do not support any particular army or media organization on Club Penguin as a whole, despite what some users may proclaim. Information on the Wikia is meant to be unbiased, unless otherwise stated.

The Club Penguin Army Wiki has an official Discord server! If you'd like to join it, click HERE! This invite is permanent. The Discord is used for better communication. Note that there are some obvious server rules which you will need to follow should you join.