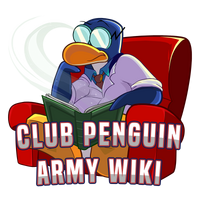 A polite reminder that we have a zero-tolerance policy in place regarding vandalism. Offenders will be permanently banned.


A further reminder that the only Legends listed here are the Legends inducted by the boards of leagues and media organizations specified on our Legends list page.

Furthermore, we are now hiring! Fill in the application here if you're interested in joining the team.

Have fun reading!
Updates and Announcements will be added here!
Help Force
The Help Force is a major army functioning on the Club Penguin Rewritten CPPS, which was formed by Ayan in March of 2018. Through their lifespan they have been able to rise to great heights and cement a legacy as one of the most successful new generation armies.
Conflicts
Tournaments
N/A.
Using the column below, you can create a page on this Wikipedia adding to more than 1000+ pages which are currently being edited and updated on weekly basis.

Let's do it:


The Club Penguin Army Wiki is not affiliated with Club Penguin, or the Walt Disney Company. We do not support any particular army or media organization on Club Penguin as a whole, despite what some users may proclaim. Information on the Wikia is meant to be unbiased, unless otherwise stated.

The Club Penguin Army Wiki has an official Discord server! If you'd like to join it, click HERE! This invite is permanent. The Discord is used for better communication. Note that there are some obvious server rules which you will need to follow should you join.