The Club Penguin builders army was created on June 16, 2008 by Waddles0, along with Sliperdiper2, Fireninja668, and Dan328. Zigbop (also oymbmp, maxisme, etc.) joined soon after and rose to the rank of Co-leader, taking over after Waddles0's disapperance. He continued to lead CPBA to small victories and revivals, culminating in SMAC weekly top ten rankings. At its peak it was classified as a medium army.

While never officially deemed inactive it has been off the rankings since 2014.
Main Colors: Green,Purple,and Yellow.
Current Leader: Zigbop
Current Co Leader: N/A
Current Servers: N/A
Uniforms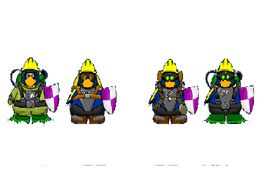 Here are some of the uniforms the CPBA members wear.

Non-members just wear mining helmets.
(PR)
Community content is available under
CC-BY-SA
unless otherwise noted.