This article is incomplete.
Please help the Club Penguin Army Wiki by expanding this page. Once done, please remove this template.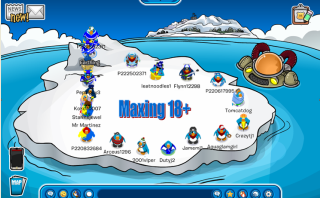 The Earthing Warriors were created by Earthing on May 11, 2013. Though they started with the name Exrate army they were changed to Earthing Warriors in 2014. In thier start the EW maxed normal sizes of 7+ and got good places in SMAC. But after January 2014, Earthing announced that he is returning back to bring back the legendary EW and it also marked a new era of small medium armies. He lead EW to sizes of 15+ and by the mid of March the EW were maxing awesome sizes of 18+ and dominated the whole CP army world.
Anti-EW Wars
By the end of Feburary 2014 the EW challenged Ice Hounds for battle.It was followed by the allies of EW forming an alliance named as anti-ew to crush EW. The alliance consisted of Dark knights, Navy of Club Penguin and the Ice Hounds but the alliance became famous when one of the strongest army the Army Republic(AR) joined it.The AR maxed excellent sizes of 45+ and were also a major supporter of anti-ew alliance.In the start of the war the EW had a strong aus force so they managed to win the battles at aus time but they lost there battles in US and UK times.Soon after the Chaos also joined the anti-ew alliance and it was also called as a small/medium world war.After a non-stop 2 days of fighting the EW ultimately invaded all AR's servers and announced that the AR is dethroned or dead.The allies continued to batlle for 2 more days and finally the NCP's site got defaced and the Chaos were also forced to go back.The DK were feared from the EW's strength and were constantly loosing server in the war.On 12th March 2013 the war was called off as the DK and the IH along with the AR agreed to sign a treaty with the EW. The EW had maxed 10+ throughout the war and also proved that they are one of the strongest AUS ever!
Leaders
Earthing(Founder)
Rocky60026
Jamemi1
Marcinmario04
Earthing(Back),Kad186