This page is currently under construction.
This page is undergoing renovation by a wikiproject or editor. Please help out if you can. Once done, please remove this template.
The Fire Warriors were originally created in 2007 by Wwe09. Over the years, the army has gone through multiple revivals and several name changes, the most notable ones being to Roman Fire Warriors and Ninjas. Keep in mind that a majority of history has been lost over the years, due to being lost, defacing, etc. The only recognized Godfathers as of now are Pochoma123 and Pringle64, with Sweater as acting Godfather. It is the current holder of the Challenger's Cup.
Early History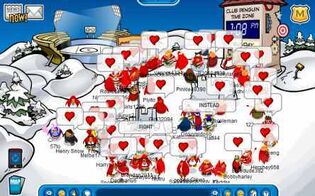 Founding of the Army (2007)
The Fire Warriors were created in late August of 2007, by Wwe09. In its early days, the Fire Warriors weren't very strong, but went on to battle some of the strongest armies of that era, such as The Army of Club Penguin, Ice Warriors, Club Penguin Clones and Dark Warriors. Wwe09 didn't spend much time on his creation and took little pride in his army. Despite him believing that FW wouldn't go anywhere, it would go on to be one of the most powerful small-medium armies of that time.
End of the Founding Era (2008)
After ten months of leading Fire Warriors, Wwe09 retired in June of 2008. With no one stepping up to takeover the leadership, the Fire Warriors slowly died to inactivity and was left in a dormant state for a full year.
Roman Fire Warriors (2009)
The second generation of Fire Warriors started under a new name "Roman Fire Warriors" in 2009, with notable leaders Pringle64 and Pochoma123, this generation would go on to reach massive heights, and were a huge influence in the start of World War IV. RFW would go on to merge with several other armies to create the Military of Roman Warriors. This brought along new leaders such as Ganger90, Woton, Trickster, Casiusbrutus and Pete852. Due to the merge, they doubled in size and became one of the largest armies of that time. The army would continue to fluctuate in size, going through various merges and revivals.
Ninjas (2011)
In an attempt at another strong generation, Pochoma123 and Pringle64 decided that another name change was due, in order to attract new troops. In May of 2011, they revived Fire Warriors under the new name "Ninjas". They achieved short-lived success under this new name, and would continue to rise and fall over the next year until its shutdown.
Since their shutdown, there have been many attempted revivals under different names, none of them very notable, concluding the early history of this revolutionary army.
Return of Fire Warriors
Fire Warriors; Back in Action (2020)
After a long dormant period for the army, the Fire Warriors were finally revived on July 21 2020 by Sweater, leading alongside Sammi, xfastx and Sophy Bee. They would go on to have a consistent average of ten troops per event, but shut down in late August, due to internal issues in the leadership.
Skateboarders Rebrand to Fire Warriors (2020-2021)
Late November 2020 brought on a new generation of Fire Warriors, when Skateboarders decided to shutdown and rebrand to Fire Warriors. This generation of FW would originally be led by Otter and Ram Em and solely use Club Penguin Rewritten, due to the upcoming death of flash. In early December, the army would partake in a war with Island Invaders, due to tensions between II leader, Legoman, and FW Leader, Otter. The war ended in a loss for FW, losing their capital, Mittens. Later that month FW advisor, Sweater, decided to join the leadership. But soon after, in mid January of 2021, FW shutdown due to CPR temporarily closing with the death of flash ,as well as the attack on CPAH. They went on an unofficial merge with Templars, as they planned to stay open, but after learning more about the army, Sweater decided to make an announcement in FW to leave the TCP server immediately. This action would cause tension between the two armies, that is present to this day.
Modern Fire Warriors (2021)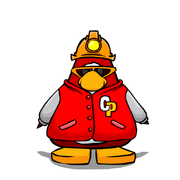 A week after the last shutdown, Sweater decided that he wanted to revive Fire Warriors once again. He gathered a new leadership consisting of him, AustinFraud, Kaos, Ot_ter, Simmonds2000 and Haley, and revived on February 6th, 2021 on Club Penguin Rewritten. Due to conflicts in the leadership, Otter retired soon after opening. This generation would go on to partake in March Madness, facing off against the Silver Empire, with an impressive max of 30+ for the s/m army despite losing. Over the next months they'd continue to have an average max of around 15 penguins, placing them in the bottom of the Top Ten, but still making them a dominant s/m army of this time. Later on Simmonds would retire from the army as well.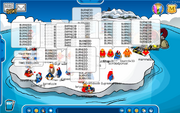 Fire Warriors would go on to play in one of the tournaments held every year, Challenger's Cup. They fought in three grueling rounds and won. They are now the current holder of the the prestigious award, Challenger's Cup trophy. Later after their huge win, leadership went through an unfortunate turmoil, mainly due to tensions with Eclipse of Club Penguin. (A very in-depth post about the whole situation can be found here). The internal conflict led to AustinFraud's banishment, and the army would shut down soon. But this generation of Fire Warriors got nominated in Night of Debauchery and received the Best S/M Army Reward.
Months after, Fire Warriors was set to revive and was led by Sweater, Real, and Rachel. They started off maxing about 5+ until the army was slowing down due to inactivity. Sweater retired once again which saw the advancement of Pran to the third leader. However, mainly due to scandalous rumours being spread amongst chats, Fire Warriors was yet again set for shut down.