Jurassic World: Dominion Dominates Fandom Wikis - The Loop
Play Sound
Firestar08 is an army leader and veteran that joined the community in October 2014. He has since led such armies as the Ice Warriors, Pink Ninjas, Grapes, LEGOMAN ARMY HOO RAH!, Water Ninjas, Elites, and currently Special Weapons And Tactics.
History
Introduction to Armies (2014)
Firestar08 had been an avid player of the Original Club Penguin, and was intrigued to find the army community, and decided he would give it a try on October 30, 2014. Both he and a friend of his decided to join the ranks of the Light Troops. Firestar08 stayed in the Light Troops for a good amount of time before departing for both the Marines and the Pink Ninjas, for Leader-in-Training and Second-in-Command respectively.
Pink Ninjas (2015)
Firestar08 was eventually promoted to the rank of Leader in Queensplend1's Pink Ninjas. He then proceeded to leave the Marines to completely focus on the Pink Ninjas. In his time as leader he was able to successfully command a war against the Army Republic, and navigate a defacement of the Pink Ninjas website. As a leader, Firestar08 also helped the Pink Ninjas place on the CPAC Major Top Ten, and led peak maxes of seventeen. Eventually, due to widespread inactivity within the Pink Ninjas chat, along with a severe lack of recruiting, Firestar08 decided it would be best to shut down the army. With the closing of the Pink Ninjas, also came the induction of Firestar08 as a Pink Ninjas Godfather.
Ice Warriors (2015-2020)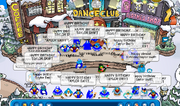 After the shutdown of Pink Ninjas, FIrestar08 temporarily joined the Doritos of Club Penguin, but he was eventually banned due to a misunderstanding between himself and Doritos Leader, Musatapha10. This led Firestar08 to stumble upon the Ice Warriors chat. He really enjoyed the community in the Ice Warriors, so he proceeded to join the army for the position of Fifth-in-Command. He stayed with the Ice Warriors for the next two years, slowly climbing the ranks. He eventually became an Ice Warriors leader in 2017. He was able to lead the Ice Warriors to great heights including consistent maxes of 30+ and able to hold a top spot on the CPAC Major Top Ten. He led until the shutdown of the Original Club Penguin, but later returned upon the opening of Club Penguin Online. In February of 2020 he led alongside Andrew24, Ben, and S Cargo2, and was able to grow the Ice Warriors significantly in his time as a leader. Due to his incredible commitment to the Ice Warriors, he was eventually inducted as a member of the Ice Warriors Hall of Fame.
Elites (2020)
After a brief hiatus from armies, Firestar08 made his return as a Second-in-Command in the eighth generation of the Elites. Within about a week he was promoted to leadership. He led alongside his former Ice Warrior leader, S Cargo2, Mythic and LuciferStar. He was able to be a strong leader, taking the army to a consistent high placing on the CPAH Small Medium Top Ten, and eventually to Major Top Ten. He is widely known throughout the army for his "Gummy Worm Formation" a term he coined in reference to an S formation that the Elites would constantly make. However, he was eventually removed from Elites leadership due to many controversial actions.
Water Ninjas (2020)
Firestar08 was left armyless after his removal from Elites, until he was offered a leadership position within the Ice Warriors revival of the Water Ninjas army. He accepted the position, alongside Flav and S Cargo2 and was able to successfully lead for about a week before resigning from his position as leader. In his time as leader, he was not only able to lead a successful revival of the historic army, but lead it to maxes of eighteen penguins.
LEGOMAN ARMY HOO RAH! (2020)
Firestar08 was eventually dubbed a leader in LEGOMAN ARMY HOO RAH! due to being close friends with creator, LEGOMAN. Firestar08 was able to lead the army once again alongside S Cargo2, among others, and take it at best to 27 penguins and consistent top placements on the Club Penguin Army Hub S/M Top Ten. Firestar08 was able to lead until the shutdown, where he received Legend within the army.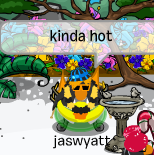 SWAT (2020-2021)
During this time, conflict was brewing between SWAT and the Water Vikings, until tensions built into a declaration of war. This conflict was known as The Eagre Foray, and it would last about a month with devastating blows from both sides of the battlefield. Though not being an official leader of SWAT, Firestar08 was successfully able to shadow-lead for the SWAT army and offer his services against the Water Vikings. Though the war initially ended in a Water Vikings Victor, Firestar08 was finally promoted to the rank of leader within SWAT. He was also able to lead the Green Division when SWAT announced its brand new Green and Purple division, and though he was the sole-leader of the Green Division, he was able to successfully annihilate the Purple Division in practically every single division battle. As a SWAT leader, he was also a major player in the conflict between SWAT and The Pizza Federation, known as the Special Weapons And Toppings War and the conflict against the Army of Club Penguin, known as the Flash Nemesis War. After the removal of flash and shutdown of CPArmies.net, he was able to continue leading SWAT. He led SWAT through the Operation: Templaria war, and eventually retired on August 5, 2021. Following his retirement he was bestowed the position of SWAT Veteran.
Accomplishments
Ice Warriors Hall of Fame status
LEGOMAN ARMY HOO RAH! Legend Status
Pink Ninjas Godfather Status
SWAT Veteran Status
Elites Award for Best Formation (Gummy Worm Formation)
Quotes
"goddamn im tryna fulltime legoman army"
"BRO I SWEAR KALIEE FORCED ME INTO IT LEGOMAN WE HAVE MORE THAN JUST A POLYGAMIC MARRIAGE"
"LEGOMAN I LOVE YOU"
"oh im leader now" (upon promotion to LEGOMAN ARMY HOO RAH! Leadership)
"lego my husband"
"m!marry @ask about the SWAT wiki page"
"hey lego 😳"