Jurassic World: Dominion Dominates Fandom Wikis - The Loop
Play Sound
This page is currently under construction.
This page is undergoing renovation by a wikiproject or editor. Please help out if you can. Once done, please remove this template.
Ganger90 is a Club Penguin Army Legend
This article is about a figure in the army community who has achieved the title of 'Army Legend', whether major or small-medium.
Ganger90 is an army creator, leader and legend. He has been a part of Club Penguin since 2008 and is most notably known for creating Special Weapons And Tactics. He is credited as one of the most talented recruiters since 2010.
Early History
Introduction to Armies (2007-2008)
Ganger90 started playing Club Penguin on August 12, 2007 as a recommendation from a friend. His initial penguin username was Iceskier, similar to the name of his friend, Ice Skr. He played recreationally until the early months of 2008 where he was eventually recruited to the Nacho Army as a rogue. He was eventually banned off of Club Penguin for unknown reasons, and created a new penguin, known as Ryan Crigger. He quickly became increasingly invested into the army community and on August 9th of 2008 he decided to create his own army, known as the Warriors of Club Penguin.
Military of Roman Warriors (2008-2009)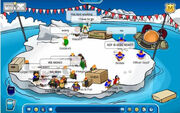 The Warriors went to max peaks of fifteen penguins, and eventually merged with Tacos, Red Warriors, Military of Club Penguin and GCR to create the Military of Roman Warriors. Under the leadership of Ganger90, the Military of Roman Warriors successfully decimated the Vikings of Club Penguin in a brief war. Ganger90 eventually departed from the Military of Roman Warriors on March 27, 2009 to focus on Underground Mafias Army, Nachos and Rebel Penguin Federation. Following the announcement of his retirement, his co-leaders Moon and Trickster also announced their retirement. He eventually returned to the army within one day, on March 28, 2009. This sudden return prompted Trickster and Moon to additionally unretire. As Pringle writes on an update post on March 29, 2020, "First Ganger was retiring, then Moon, then Trick! But then Ganger decided not to retire, then Moon, then Trick! 🙂 So no one is retiring! 🙂" The Military of Romans Warriors went on to max peaks of over fifteen penguins and was a force to be reckoned with until deciding to merge with the Fire Warriors and create the Roman Fire Warriors.
Roman Fire Warriors (2009)
The Roman Fire Warriors were a powerhouse, and widely regarded as the third most powerful army at the time. Ganger led this army along with Woton, Npeppersn and Pringle64. Ganger90 eventually went on to lead the Roman Fire Warriors in multiple wars against the Club Penguin Clones in 2008, and were ultimately successful. As a leader of the Roman Fire Warriors he was also widely credited with influencing the start of World War IV. On May 12th 2009, the Army of Club Penguin declared war against the Roman Fire Warriors. This conflict was spearheaded by both Ganger90 from the Roman Fire Warriors but also Boomer20 of the Army of Club Penguin. In this brief war both sides put up an extremely valiant fight, however the Army of Club Penguin was able to emerge victorious on May 18th 2009. The conclusion of this conflict would bring the beginning of a deep rivalry between Ganger90 and the Army of Club Penguin as a whole that would only grow with time.
Special Weapons and Tactics
Creation (2009)
In late 2009 after departing from the Roman Fire Warriors, Ganger90 assembled a plethora of dedicated rogues that consistently gathered on the server Mammoth. From Ganger90 and these rogues eventually spawned the Special Weapons and Tactics Army. This army was relatively unorganized in its early days, not having a xat or website until significantly later. However, the troops were committed and united under Ganger90's leadership, and he was able to create a massive devoted following.
First Generation (2010-2011)
The First Generation of SWAT was kickstarted by Ganger90 in 2010. It was united under an organized zat chat and utilized a wordpress website to promote recruiting. Much of the original history has been obstructed or lost, however it is known that a striking rivalry began between SWAT and the Army of Club Penguin not long after creation. Ganger90 conducted many raids against the army of Club Penguin, and the most notably fought over the historic server Mammoth.
Modern Era (2012)
SWAT's Modern Era began in early 2012, where they were able to secure consistent placings within the middle of the CPAC top ten. Ganger90 was not as involved in the day-to-day operations of SWAT, but was still present throughout the era. He entrusted S Cargo2 and Cul8rsl to lead SWAT, and with this powerful duo SWAT was able to consistently challenge the Army of Club Penguin for control of Mammoth. SWAT was also able to obtain the number one spot within the army top ten, proving a great victory for Ganger90's creation. He was able to maintain constant placements in CPAC's Number one top ten 2012 through 2015. He was able to lead SWAT to take second place, right behind the Ice Warriors in CPAC's final top ten before the shut down of Club Penguin.

Achievements
Creating Special Weapons And Tactics
SWAT Creator, Godfather, Legend and Veteran status
Credited as one of the best recruiters in the community since 2010
CP Army Legend

Quotes
"Fight now, Die Later,"
"Yeah, these teachers are so NOT hood. They ain't got da hood in em"
"Mobties forever"
"Cya yo, let's meet up at the strip club tomorrow"
"Loyalty outvalues everything."