Join the Golden Troops at: Xat.com/GoldenTroopsHQ \\\ goldentroops.com The Golden Troops were an army that had 8 generations total. They were formed in 2010 and were created from a merge.  They achieved the #1 position in 2011
GT
Information
Full Name
Golden Troops
Founded
 ?
Rank
None
Government
 ?
Size
Small
Famed For
Being GT...
.
History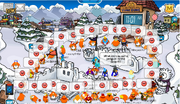 The Golden Troops were created in 2010 when the Golden Warriors and the Club Penguin Sun Troopers merged, GW as the main leader of the Orange Alliance and Sun Troops as a former major army but dying, merged together. Within a few weeks of the merge, the Golden Troops became 2nd on the Top 10. After a long struggle, this first generation died off.  The second generation was nearly as successful but not quite and also died off slowly. In the third generation of the Golden Troops, the army hit it's all-time peak.  Boasting sizes of over 55 soldiers on Club Penguin and near-perfect tactics, this was an unstoppable army.  In August of 2011, the third generation of GT achieved the #1 Position on the CPAC Top 10. Shortly after that, the first Flame War began.  The Army of Club Penguin was disturbed by GT taking their spot and immediatley declared war.  After false accusations of botting and hacking, the GT died off.  ACP Leaders later admitted to lying about the accusations and to using allies. The Golden Age of GT ended with the end of the famous ACP vs GT War.  Next came a terrible time of failures and false recreations.  After many failed tries, the 8th Generation of GT was formed on December 21st, 2012.  This was the final generation of GT.  Achieving 2nd on the Top 10 and sizes of 40+, this was a very successful army for the  sizes that armies average in the year 2013. At the end of February 2013, due to Ganger90's recreation of SWAT and stealing of troops, the 8th generation closed and the leaders declared that the Golden Troops are never to be recreated again. Then June 2014 happened..
(In Depth Article soon to come)
Leaders
Golden Warriors
Saiyaman Xc (Creator)
Flipper (Creator)
Riotors (Creator)
Zelmania (Creator)
Swimmy Blue 
Sun Troopers
Sklooperis (Creator)
Hampton4life (Creator)
Jerry2cool
Chuckisthe2
Ganger90
Wenny123abc
Mobius
Golden Troops
Ganger90
Flipper7706
Saiyaman Xc
Sklooperis
Riotors
Wiggle
Swimmy Blue
Sercan 44444
Jerry2Cool
Chuckisthe2
123nico26
Godplaya123
Ganger 90 (2)
Jerry2cool (2)
Riotors (2)
Sercan 44444(2)
Flipper7706 (2)
Adster
Jerry2cool (3)
Sercan 44444 (3)
Ganger 90 (3)
Riotors (3)
Np3000
Billy Mays
Tap Dancer36
Surferboysc
Mikester
Khimo
Jerry2cool (4)
Sercan 44444 (4)
Tap Dancer36 (2)
Ganger90(4)
Mchappy (Icey Cold27)
Pain
Wgfv
Nic
Tap Dancer36 (3)
Ganger90 (5)
Jerry2cool (5)
Surfersboysc (2)
Mikester (2)
Bluesockwa1
Bluesockwa2
Fadsa
Tap Dancer36 (4)
Albaro Lord
Ederan
Fort59
Houndy
Riotors (4)
Tap Dancer36 (5)
Wenny123abc
Surferboysc (3) 
Jerry2cool (6)
Sercan 44444 (5) 
Tempah 
Sidie9/Vex 
Vivek 
Spi101 
Lord Pain
Dinesh
Zakster
Rishron 
Hulk
Stromae
Lord Pain
Lord Jay
Supa Em
Dwain
Community content is available under
CC-BY-SA
unless otherwise noted.