Jurassic World: Dominion Dominates Fandom Wikis - The Loop
Play Sound
This article is incomplete.
Please help the Club Penguin Army Wiki by expanding this page. Once done, please remove this template.
This page is currently under construction.
This page is undergoing renovation by a wikiproject or editor. Please help out if you can. Once done, please remove this template.
The Helmet and Mop Wars were two conflicts between the Trojans and Wet Army Penguins that spanned from September to November 2021.
Background
The remanence of conflict first appeared when WAP had criticized Trojans. The Trojans responded in raiding an event and resulted in WAP declaring a full out war.
Helmet and Mop War I
WAP declared the first war on September 4th of 2021. And after being at war for less than a month, the leaders of both WAP and Trojans came to an agreement that the war ended in a tie. However, there was no hint that it actually ended.
Helmet and Mop War II
A month later, the Trojans' leadership redeclared war on WAP for reasons as troopstealing. They had only fought a few battles before the war seemed to come to its close. Strangely enough, nothing happened until the first of November that year, when the leadership of Trojans yet again reincarnated the war to finally settle it properly. This time, WAP leader, Smthy was accused of deliberately scamming Discord users, and was banned from the WAP server.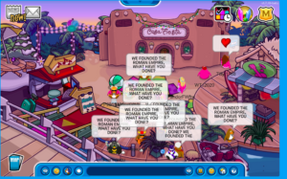 Result
After WAP had successfully reclaimed their lost land that the Trojans had claimed before, they had forced treatied the army and ended the war. Both armies and army leaders are now on good terms since the war ended.
Pictures
TBA