This article is incomplete.
Please help the Club Penguin Army Wiki by expanding this page. Once done, please remove this template.
Help Force is a Major Army functioning in the Club Penguin Rewritten CPPS , which was formed by Ayan in March of 2018. Through their lifespan they have been able to rise to great heights and cement a legacy as one of the most successful new generation armies.
History
Creation
The Help Force was created on March 11, 2018 by Ayan, originally under the alias of "Helping Friends." However, this did not last long as within one day of the Helping Friends' creation, they were bombarded with a defacement. Thus allowing for the reformation of the newly renamed Help Force of CPO on March 13, 2018.
More Information
Website: https://cphelpforce.com
Discord [Chatroom]: Click Here
Help Force Archives : Click Here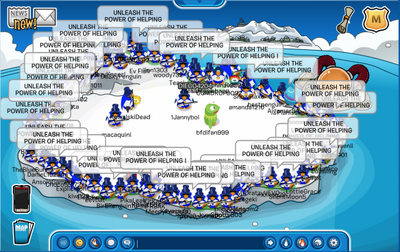 Trivia
The Help Force had its name as "Helping Friends" before it was renamed to The Help Force.
The Help Force was actually created on 7th of March 2018 with the name "Helping Friends" but due to the Defacement , It was Re-Created on the 11th of March 2018.
The First Gamer of the Week of the Help Force is Geleto2402.
Maurox has won the Gamer of the Week 8 Times.