New Viking Alliance, or NVA is a major alliance consisting of 5 armies. The alliance has seen combative roles across numerous CPPSes and has taken on numerous enemies and has engaged in several espionage roles. It was first created in December of 2017 lasting until January 2018, but was revived later on on December 23rd, 2018. It has won (or preformed well) in every conflict it was involved in. It has also carried on numerous anti-RPF traits. It is the de facto predecessor of the Red Dawn Alliance and successor of the UMADKE alliance.
New Viking Alliance
Information
Full Name
New Viking Alliance of CP
Founded
December, 2017 - January 2018 (First Generation),

December 23rd, 2018 - present (Second Generation)

Rank
Major alliance
Government
Democratic-Republic (First Generation)

Oligarchy, Fascism (Second Generation)

Size
11 armies (Peaked)
Famed For
- Checking power of the Roman-RPF Alliance

- Checking power of the Pirates, HF, and Ninjas Alliance
History
Foundation & First Generation (2017-2018)
The NVA was founded in early December of 2017 by Doctor Calamus and Nullify, two leaders of the United Republic of Penguins, for the purpose of checking the power of the Roman-RPF alliance and to defeat the Romans in the War of Roman Subjugation. The alliance was successful of getting the membership of UMADKE. It managed to gain further membership of the Tubas and Redemption Force. After the war, many other armies joined such as EGCP and Club Penguin Crew. Many armies later would die out and leave over time, such as RF and UMA. The army had a final engagement on January 3rd, 2018, which was the War Against Ehroyals for the goal of defeating UMA. They were successful, after taking every server from UMA. There was an attempted espionage seizure of UMA, however it failed and the New Underground Mafias Army was formed to fight in the UMA Civil War. However, NVA died not too long after.
Revival & Second Generation (2018-present)
On December 23rd, 2018 the New Viking Alliance was brought back by Cookky2 and Cobra for the goal of defeating any possible Pirates threats. Templars became members, but later on they were kicked out. They engaged in a war known as the Templar Exodus in 2019, with the goal of occupying and freeing Templars. They managed to get all territory of Templars after the community moved to CPR. During the war, NVA managed to help assist the creation of the Winged Hussars, who have now joined the NVA. The NVA eventually was caught in combat once again in July 2019, with the War of Smoke and Sour, fighting against the Lime Green Army and Rebel Penguin Federation. They are partially considered the victors of the war, due to the amount of servers captured. The NVA still continues to date, as a major alliance. Within the second generation a total of 16 armies have come and gone, with 5 being the current lineup.
Engagements
Commanders
1st Commanders: Doctor Calamus, Nullify (December, 2017)
2nd Commanders: Doctor Calamus, Cobra, Nullify (January, 2018)
3rd Commanders: Cookky2, Edu14463, Cobra (December 23rd 2018 - present)
Armies Involved
First Generation (December 2017 - January 2018)
Second Generation (December 23rd, 2018 - present)
EGCP
Templars (Kicked out)
Wizards (Left)
Aliens (Left)
Hussars
Dark Angels (Left)
Savages (Left)
Clouted Penguins (Left)
Optical Gang (Left)
Fire Nation (Disbaned)
Tea of CPO (Left)
Phoenixs (Left)
EPF (Left)
Logos

First. December 2017 - January 2018.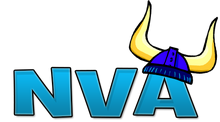 Community content is available under
CC-BY-SA
unless otherwise noted.