New Viking Alliance
Information
Full Name
New Viking Alliance of CP
Founded
December, 2017 - January 2018 (First Generation),

December 23rd, 2018 - present (Second Generation)

Rank
Major alliance
Government
Democratic-Republic (First Generation)

Oligarchy, Fascism (Second Generation)

Size
11 armies (Peaked)
Famed For
- Checking power of the Roman-RPF Alliance

- Checking power of the Pirates, HF, and Ninjas Alliance
New Viking Alliance, or NVA is an alliance of armies on that operated in Club Penguin Rewritten officially. It also saw some combative roles on Oasis. It was then revived to operate on Club Penguin Online.
History
The NVA was founded in early December by Doctor Calamus and Cobra to fight the Romans in the War of Roman Subjugation. The NVA was consisted of the URP, UMA, DKE, Tubas, RF and a few others. The NVA fought the Romans and won multiple battles, before the war got called off due to the NVAs affiliation with Elmikey and the Rebel Penguin Marines, it is to note, their action in the army was low and it was UMA-DKE who saw most of the action. After the Romans war, more armies started to join and leave the NVA. The CP Crew and Elite Guardians joined, but the UMA left and the DKE ended up dying later in December. The NVA didn't really do much until early January 2018, also when Zeke revived the Barbarians for its 3rd generation. The Barbs joined the NVA. On January 3rd, 2018, the NVA voted to declare war on the UMA, and that is what they did. The NVA beat the UMA in several battles until the URP died and the NVA fell apart. On December 23rd the New Viking Alliance was formed by Cookky2 and Cobra. It recruited a total of 15 armies including the kicked out ones and ones that left. It is currently alive and well. It established an oligarchy government with sometimes traits of fascism.
Engagements
Commanders
Armies Involved
First Generation (December 2017 - January 2018)
Second Generation (December 23rd, 2018 - present)
Logos

First. December 2017 - January 2018.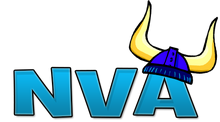 Community content is available under
CC-BY-SA
unless otherwise noted.