The Oman276 Army of Good is made to take down the evilist armys on this wiki. The members are=
Oman276- supreme leader
Aman276- general
Bobafett08-supreme general
Nokun46- soldier
Multi5-recon
Thea434-soldier
Boman-soldier   I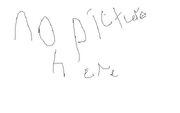 ce20039-soldier
The weapons they use are:
Snowball gun
Giant snowball cannon
The sword of infinitie power
Handheld electric stuner
The following penguins are WANTED and if you see one REPORT THEM IDMEDIETLY!
Violantealleta:
Leader of the Purple Rupublic. (her armies are made of bots, so banning her army will not do much.)
Danger level: 10/10
PRF (Penguin Robber Fedaration)
Any robber of that army wanted.
Danger level: 4/10
Bunny Sharks:
Any soldier wanted.
Danger level: 4/10 
GCPA
Any soldier wanted
If you would like to be on Oman276's Army of Good please add yourself as a plain soldier.
Community content is available under
CC-BY-SA
unless otherwise noted.