The Painters are one of Club Penguin Rewritten's newest armies, founded in the early months of 2018.
History
 The Painters were founded officially in February, 2018, after their first battle against, their allies now, the Pizza Bois They do not hold events very often, but if they do they are seen in the Town. They are usually peaceful, and usually do not cause any war, unless another army tries to get into their territory. They usually go on Beanie or Sleet for events.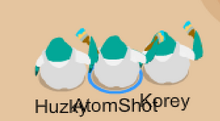 The Painter's most intense battle was with the Pizza Bois. The attack ended with a compromise, first issued by Ocean83 and later that day officially adopted by MrUnicorn117. The Painters and Pizza Bois are now allies, and the Painters slowly grow.
Links
Website- https://painterboiscpr.wordpress.com
New Website (Work In Progress)- https://cprpainters.wordpress.com
Ranks
The High Council of The Painters consists of the following: Batmannn1, BigBoof29, and Ocean83.
Community content is available under
CC-BY-SA
unless otherwise noted.