'
The Penguin Defense Force (PDF) is a Club Penguin Army created by a user named Summit
https://penguindefenseforce.wordpress.com/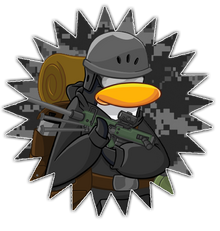 2014 Original

The Penguin Defense Force (PDF) is a Club Penguin army created by greatness81 and Lordpenguin1 on May 24th 2014. Their website is http://pdfclubpenguin.wordpress.com
History
The Penguin Defense force started as a small army on May 24, 2014. After a while, many penguins were recruited, and the Force started seeing sizes of 7+. 2 leaders were recruited, MisterBlue12 and Gocart2001.
After Lordpenguin1 retired, the PDF started to fall. Gocart2001 did not do anything, an Misterblue12 deleted many of our posts from the site as well, including our battle results posts. The army was then put into lockdown and merged with the Club Penguin Protection army.
After the CPPA fell, the PDF was rebuilt. The leaders were removed. The PDF is now looking for new leaders. Apply now!
JOIN
The PDF army is always looking for new agents! Join now! https://pdfclubpenguin.wordpress.com/join/
UNIFORM
Here is the PDF army's member uniform:
Community content is available under
CC-BY-SA
unless otherwise noted.