Jurassic World: Dominion Dominates Fandom Wikis - The Loop
Play Sound
The People's Imperial Confederation, also known as the People's Imperial Confederation of Club Penguin, PICCP, and PIC, is a medium-sized army founded October 17th 2019 by founder and pioneer of the AUSIA division in armies, Sidie9 (known in modern times as Eva and/or Jemma). PIC has participated in many notable wars, including World War Rewritten and World War VIII, and placed 7th on CPAH's Top Ten CPR Armies of 2020. The Confederation has also seen success in tournaments, reaching the grand finals of the first Challengers Cup and Challengers Cup 2. Lizzie/Langly, Sam, Hidcre and MayaP17 are the current leaders of the People's Imperial Confederation.
History
First Generation
PIC was originally conceived as a revival of the People's Republic Army [PRA] by Sidie9, an ACP legend and back then a member of ACP. However, this revival did not go ahead as the sole veteran from the army Prior Bumble refused to allow the revival to take place. Consequently, Sidie9 instead created a new army.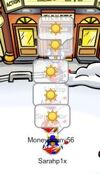 Proditor [Prod for short], also in ACP at the time, joined her and the two were the army's first leaders. The army held it's first event October 19th 2019, maxing 5. This was enough to register PIC with the CPA league of the time, making PIC an official army.
The army received territories from RPF shortly after and from there, PIC began accumulating territory.
Due to personal reasons, Proditor retired from PIC leadership 29th October and was replaced by NotManuGinobili. At the same time, Sidie9 would transfer two servers to RFCP and announced an alliance with RFCP and Prior Bumble, eventually being formalized as the Crimson Night Alliance.
This relationship with RFCP would lead to a war between PIC and ACP. As ACP was a vastly larger army, ACP won the war, forcing a peace treaty. The army began to fall apart, Sidie9 left the army to join RFCP as a 3ic and Manu joined LGA shortly after.
Second Generation
In late March 2020, Manu was approached by Sidie9 about reviving PIC for a second generation. Although hesitant, she agreed and on the 23rd March, the second generation maxed 9. LuckyLuigi would shortly after joining PIC and quickly rose through the ranks to Commander as PIC's strongest recruiter. PIC grew to new sizes of 18+ and beyond.
In April, PIC entered World War Rewritten, which saw RPF and its allies vs ACP and their allies. PIC fought with RPF. Sidie9 posted this on the war:
"Greetings Comrades.
Today is a historic day for the Confederation, as it is the first time in our history that we declare war. The People's Imperial Confederation hereby declare war on the Army of Club Penguin.
Our closest ally, the Rebel Penguin Federation, has waged war on the ACP, and as allies we are bound to each other. We will stand firmly beside our brothers in black, as we face a nemesis that once sought to eradicate the Confederation in its early days. This war is not one of revenge but of brotherhood with our Rebel allies. However, it goes without saying: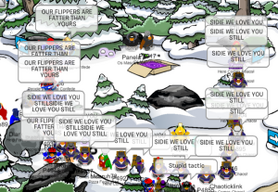 Remember The Lighthouse, ACP."
The war did not last long, with the war ultimately stalemating with no declared victor.
Following the war, PIC ran into issues with RFCP. RFCP raided PIC events and attempted to disrupt them. PIC released a post regarding the raids on May 10th 2020. At first, this appeared to be an indirect continuation of World War Rewritten, but on 12th May 2020, RFCP released a blog post making three accusations against PIC.
These included dox threats from PIC Premier LuckyLuigi directed at RFCP HICOM Shallissa and her family, then PIC HICOM Katsuki harassing a young special needs former member of the army community on social media in PIC main chat without being moderated, and finally having Cobra within the server as an advisor, who had made Nazi jokes and inappropriate behaviour in general.
Shortly after the post was released, PIC removed all three members from the server. Finally, an agreement was released between the two armies and the hostilities ended.
PIC article: https://picclubpenguin.com/2020/05/12/the-document-of-contrition/

RFCP article: https://priorbumble.blog/2020/05/13/rfcp-sacks-pic-capital-pic-admits-defeat-and-apologizes/
Following from this, PIC would consistently max 15-25, eventually participating in the Club Penguin Armies Media 2020 Challengers Cup. They did well in the tournament, defeating the Aliens and Crimson Guardians, making it all the way to the grand finals against Pizza Federation. It was at the finals that everything went wrong for the Confederation.
PIC lost the finals, but PIC HICOM were suspicious of six penguins supposedly in PIC who were disrupting tactics and formations.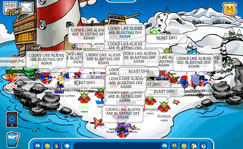 Sidie9 would present the suspected penguins to to CPAM staff, requesting an investigation. However, in an unexpected twist, CPAM investigations revealed that these penguins were actually botted and multilogged by PIC Advisor Earthing.
After internal struggles and a massive drop in troop count following the Challengers Cup scandal, Sidie9 took a temporary leave-of-absence from the army alongside Emma. Almost immediately, the People's Imperial Confederation was attacked and invaded on three fronts by the Red Ravagers, Pizza Federation and Templars during a period of recovery. Commander Phoebe was left alone to lead the army in defending against its enemies, although Emma would return as the war continued. Two of PIC's close allies – the Water Vikings and the Marines – joined the war on the Confederation's side, citing the abuse of PIC during a time of vulnerability (especially with Sidie9 absent) as the reason for war. In a post on the Water Vikings website, Kingfunks4 and their leadership stated:

"Today I bring news that the Water Vikings are at war for the first time in the new CPPS army era. We have declared war on the Templars, who have shamelessly formed an alliance with two other armies to invade the People Imperial Confederation whilst our much loved friend, Sidie, has been on leave for personal reasons. We will not accept for armies to bully PIC when they are in a period of rebuilding and adjusting, and therefore have come to their support. They did not ask for this help, but we felt as we have a role. Our allies the Marines (part of the wet alliance) have declared war on Pizza Federation."
The Confederation would survive what would be later known as the Confederation/Motherland War, despite causing irreversible damage to the Confederation. Multiple attempts were made to revitalize PIC. Phoebe soon retired and PIC veteran Attai/Rowan Alden was named the new Commander-in-Chief. Unfortunately, the People's Imperial Confederation's second generation would end on August the 17th 2020, merging with the Water Troops to form the (now closed) Tamales army.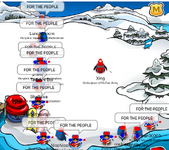 Third Generation
The People's Imperial Confederation returned with a third-generation after the Congress of Soviets (PIC's advisory board) unanimously voted in favour of the army's return. Led by PIC veterans Sidie9, lunch room (Emma) and SupremeP0wer/LuckyLuigi, PIC officially re-opened on the 7th of January 2021 following the end of Flash Player support. PIC held its first Club Penguin event on the 9th of January, maxing 15+. Shallissa would later join the leadership team on the 18th of January.
The Confederation debuted at 8th in the first CPAHQ Top Ten, consistently remaining within the Top Ten throughout the generation. Close ties would be formed with the Ice Warriors. They faced IW on Valentines Day for the first battle of the generation, maxing 17, which would lead to future weekly practice battles between the two. The first PIC Divisional Battle would also take place on the 27th of February between the Toboggan Tigers and Beanie Brown Bears, with a max of 20.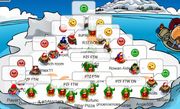 The Confederates would participate in the CPAHQ 2021 March Madness Tournament, facing off against Special Weapons and Tactics. Despite trying their best, PIC displayed max size of 15 in a battle that would be lost to SWAT on the 13th of March. Nonetheless, PIC maintained its consistency and strength heading forward. After over a year of leading, Commanders-in-Chief Emma and Sidie9 announced on the 17th of April that they would be retiring at the beginning of the following week, Monday the 19th. Heartfelt messages were sent to the retiring leaders, with the resignations marking the first era of the Confederation without its founder at the helm. Their retirement post stated: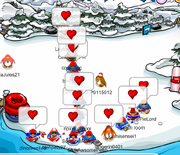 "I created PIC on the 17th of October in 2019 as a passion project with my good friend David, also known as Proditor, for a final run in the Club Penguin Army community. I had no idea that the People's Imperial Confederation would come this far, and I am so proud that I, along with my team, have worked in creating and molding this wonderful community that so many people call home. My amazing girlfriend Emma (lunch room) joined me in PIC in the March of 2020. Together we have been a fantastic duo of leaders. We have accomplished so much and have enjoyed our long tenure as Commanders-in-Chief of this amazing group. After over one year of service to this army we call home, it is time that Emma and I (Jemma/Sidie9) finally retire this coming Monday, April 19th 2021."
Two farewell events took place, one AUSIA and one US, both maxing 20. In their place, PIC Legend and Marszałek Phoebe was promoted to Commander once more to lead alongside Supreme and Shallissa. PIC continued to perform strongly in battles and events during the transition to a new era of the Confederation.
The retirements of Jemma and Emma launched the People's Imperial Confederation into a new chapter of practically complete independence from its creator for the first time ever. The leadership of Shallissa, SupremeP0wer, and Phoebe maintained army consistency, achieving maxes of 15-20 penguins and top ten placements of 11th or 12th place. In a themed week titled "Rainbow Rampage", the Confederation worked to preserve morale and size despite the previous departure of two historic leaders.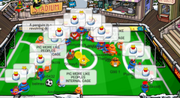 Throughout May 2021, the Confederation participated in a variety of practice battles amongst allies and armies throughout the community, reaching sizes of 20. With Phoebe and SupremeP0wer falling inactive due to personal reasons, PIC relied heavily on Commander Shallissa and high-ranking members of its high command. This era saw the growth of ThePieLord8 and Aydoon12, who together served as Marszałek (LiT).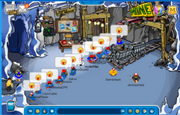 Despite engaging in a substantial amount of practice battles throughout generation three, PIC had yet to participate in war or any army conflict. The Congress of Soviets were attentive to the drop in soldier morale due to two inactive leaders and desired something fun and conflicting to keep the Confederation moving. PIC colonized Sidie's Rangers, a meme army formed by Creator Sidie9 mostly because it was based. With an intense longing for a morale boost and "free clout," Sidie's Rangers declared war on the People's Imperials Confederation in what would be comedically known as The Outback-Toboggan Border War. After a series of three battles and back and forth exposé posts between the two armies, the war concluded with a PIC victory.
The end of the Outback-Toboggan War led to the retirement of Commanders and Legends Shallissa and SupremeP0wer, who served five full months in leadership. Following their retirement, Shallissa was named PIC's second-ever Chairwoman by Creator Sidie9, with Sidie9 assuming a newly created position titled First Secretary. SupremeP0wer was assigned the title of President of Congress. After serving as LiT for a few short weeks, ThePieLord8 and Aydoon2 were inducted into leadership to lead alongside Phoebe. Maya and Cabin0416 were promoted to Marszałek (LiT) to support the new generation of leadership.
In June 2021, the People's Imperial Confederation was invited by Club Penguin Army Headquarters to participate in Project Conquest, a month-long map warfare event consisting of a variety of server battles. The Confederation happily accepted this invitation and were formally brought in as a participating army. PIC, under the leadership of Pie and Aydoon, participated through the full duration of Project: Conquest. Reaching sizes of 17 penguins, the Confederation engaged in 12 battles distributed across 4 weeks of warfare.
After weeks of alliance tension, a Project: Conquest battle with the Golden Troops sparked an array of conflict between the two armies. In an extremely intense battle, the Confederation lost their battle against Golden Troops with tensions now at an all-time high. Despite this sudden burst in conflict, PIC relations with other armies and allies remained consistent as Project: Conquest came to an end.
Project: Conquest concluded with the Confederation achieving fourth place. Under Pie and Aydoon, they sought to bring PIC into a period of recovery after long weeks of warfare.
According to Shallissa, troop morale improved during the summer period. PIC Creator Sidie9 was given Advisor in the newly revived Smart Penguins and she encouraged both PIC and SP to come together and form a brother alliance. This alliance was named the Imperial Intelligence Alliance and provided a close friend to the Confederation.
The People's Imperial Confederation moved forward to participate in Legends Cup XI where they faced the Army of Club Penguin, an ally of the army. After ACP announced their withdrawl from the tournament, the Confederation, by default, moved to Round 2. This time, PIC faced the Templars. They lost, but according to Shallissa, the army was left in good spirits.
Shallissa, Chairwoman of PIC, was approached by SWAT Commander LEGOMAN in regards to Operation: Templaria, a war in which SWAT was up against the Templars. SWAT was aware of the previous conflict between PIC and TCP towards the beginning of generation three and sought Confederation support due to sharing a mutual enemy. Despite having a rocky relationship with SWAT, the Confederation agreed to get involved in hopes of improving relations. A strong friendship quickly developed between the Congress of Soviets and LEGOMAN, which resulted in him being made PIC Advisor.
Tensions with Golden Troops, whom at the time were an ally of PIC, remained at an all-time high during this self-proclaimed period of rebuild. Both armies still remembered the battles during Project: Conquest. After a series of dramatic conversations in an alliance group chat, including accusations against leaders and veterans, GT officially ended the alliance.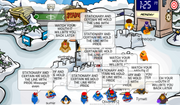 After experiencing what was perceived to be toxicity from its former ally, the Confederation was ready for war with the Golden Troops. Not knowing the Smart Penguins shared mutual interest, PIC leadership was approached by their leadership, who requested their involvement in an upcoming war with GT. The Golden Troops and their colony Post Malone Army occupied 27 servers on the Club Penguin Army Network map. The Smart Penguins were interested in expansion whilst the People's Imperial Confederation were interested in warfare after the end of their alliance with GT. According to Shallissa, war seemed to be in the best interest of the Imperial Intelligence Alliance and it was decided that the alliance would declare war together simultaneously. The Smart Penguins published a war declaration on Golden Troops, while the Confederation targeted their colony Post Malone Army through an identical war declaration. The war would soon be documented as the Golden Intelligence War throughout media organizations in the community.  The People's Imperial Confederation would refer to this war in its own history as the Fall Apart War.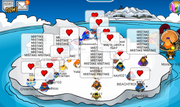 As the war began, during which the People's Imperial Confederation were ahead of the Post Malone Army in terms of war score, the Imperial Intelligence Alliance began to believe that the Golden Troops weren't ones to play by the book like most armies do. This belief came over them because the Golden Troops declined judges, did not show up to battles, and even invaded their own colony. This was perceived as a form of escape by the Imperial Intelligence Alliance. As time went on, the IIA continued to win against the Golden Troops and Post Malone Army. Finding interest in the war's developments, PIC Advisor LEGOMAN began leading and organizing battles alongside PIC's Commanders and the Congress of Soviets. Due to his contributions, he was named Commander-in-Chief of the People's Imperial Confederation to lead alongside ThePieLord and Aydoon. Wanting to provide extra support to PIC, Chairwoman and Legend Shallissa would return to her role as Commander-in-Chief after heavily advising the Confederation throughout her entire retirement.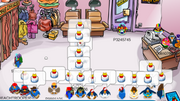 With PIC leadership believed to be stronger than ever by some, the IIA war score continued to climb as the Confederation increased in max size and apparently morale. Their lead in the war opened many new opportunities for alliances. The Confederation formed a brother alliance with the Fire Warriors titled the Blazing Confederation Brother Alliance. The two armies quickly became close as FW voiced their complete support for the IIA's war efforts. The Templars, who had originally attended a battle for Post Malone Army, switched sides and formally allied with PIC. This unnamed brother alliance provided support for PIC as the war continued, with both armies sending support and troops each other's way. Under the new era of leadership, PIC sizes continued to climb, eventually beating generation max records twice in a single week.
The Fall Apart War/The Golden Intelligence War would come to a brief pause, with all participating armies being invited to CPAHQ's Challengers Cup 2. The Confederation had high expectations of themselves after narrowly losing to Pizza Federation the year before and placing second place. Round One pinned the People's Imperial Confederation against Dua Inn Lipa Fighters, whom PIC won against 2-0-1, allowing PIC to move on to Round Two.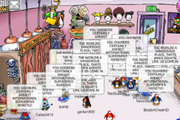 Round Two pitted the Confederation against Secret Service, an ally of the Confederation, in the semi-finals of the tournament. This battle was intense but ultimately resulted in a PIC victory with a score of two rooms won and one room lost. Following their loss, the Secret Service contacted CPAHQ staff to question the results, accusing PIC of bringing allies and dual enlists to the tournament. After a short-lived investigation, PIC was found to be innocent of these accusations and moved on to the third round of the tournament. As a result of the Secret Service's actions, PIC would end the alliance because of mistrust in each other as allies.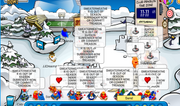 Round Three of Challengers Cup 2 would place the Blazing Confederation Brother Alliance against each other. Much was at stake for the Confederation, who found themselves participating in the finals like the Challengers Cup tournament the previous year. With Commanders Shallissa and LEGOMAN absent, First Secretary and Creator Sidie9 found herself in a familiar situation, leading her army in the Challengers Cup Finals just as she did one year prior. The armies faced off, the battle resulting in a Fire Warriors victory with a score of 3-0. Although disappointed, PIC was proud of their allies for their victory.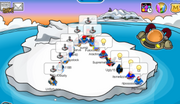 The end of Challengers Cup 2 would see an end to the Smart Penguins' involvement in the Golden Intelligence War. The Smart Penguins were satisfied with their expansion efforts, with SP successfully invading many of GT's servers. The Confederation, however, lacked any desire to step down from the war, and consequently formally declared war on Golden Troops. Although at war, the following weeks saw little warfare as judges were nearly impossible to obtain in CPAN's organization. Golden Troops began mass invading their own colony while PIC put their attention onto getting PMA off the map. The stakes were high, with the ultimate goal being to force treaty Post Malone Army to obtain partial victory.
Meanwhile, as the summer began coming to an end, Commanders ThePieLord8 and Aydoon2 retired from PIC leadership, leaving Commanders LEGOMAN and Shallissa co-leading together. An alliance with the Sea Serpents left PIC colony LEGOMAN ARMY HOO RAH! with 10 servers on the CPAN map, where yet another declaration of war was published to protect the colony from invasion. Invasions against the Golden Troops continued, during which PIC continued to obtain victories.
With only a few PMA servers left, PIC and GT began invading them. Golden Troops were hoping that invading their own colony's capitol, Eastern Shoreline, would end the war without a force treaty from the People's Imperial Confederation. PIC was hoping that a successful defeat of Post Malone Army could also end the war with Golden Troops through a cleverly written force treaty. After Golden Troops' successful invasion of Eastern Shoreline, Commanders Shallissa and LEGOMAN would contact CPAN administration where PIC was granted full permission to proceed with a PMA force treaty due to the war score being 10-1. Consequently, PIC obtained victory in the Fall Apart War after over a month of constant war. PIC presented a force treaty titled "The Treaty of the Postal Confederation" to PMA in a group chat, which went on to be largely ignored by PMA leadership. In a post titled "Better Now," the Confederation publicly announced their victory with an official war score of 10-1.
"On July 30th, 2021 the Imperial Intelligence Alliance declared a state of total war against the Golden Troops and their proxy, Post Malone Army. After strong tensions due to the abrupt end of PIC's alliance with Golden Troops, our Confederation sought vengeance on behalf of the treachery demonstrated by the Golden Troops. Our army fought valiantly alongside our beloved allies until we commenced a war of our own against the Golden Troops, assuming a position of war against two armies at once. After over a month of constant war, the People's Imperial Confederation have been declared the victors of the Fall Apart War against Post Malone Army."
Unable to use the Treaty of the Postal Confederation to end the war with Golden Troops, the Confederation found themselves remaining in a head-on war against their former ally. Meanwhile, the Golden Troops dropped in size after the end of the Fall Apart War and the retirement of two major leaders. According to Shallisa, total victory was in sight and the Confederation had no intention of backing down. After much debate regarding the next steps of war, Operation: Olsztyn was born and put into immediate effect.
"Operation: Olsztyn – The Endgame of the Rusting Hope War
After a long and gruelling conflict that lasted a month and a half, the Fall Apart War has ended in a force treaty that saw our absolute victory. Despite our hopes, it has been determined by F6 that we are unable to use the Treaty of Postal Confederation to end the War of Rusting Hope as well. As a result we continue to be in a state of war against the Golden Troops army
Through deliberation amongst the Congress Cabinet we have determined that our best approach moving forward will be to continue the war in a guerrilla-like fashion. Allowing peace talks with Neha and Kattle at this moment would only serve to weaken our movement when total victor is in sight.
It is unfortunate, however, that the Golden Troops hold almost 20 servers currently. Invading the rest of their land will be a hard endeavour. For example, if we were to invade 2 servers each week it would still take 3 months to finally end the war. Thankfully the Golden Troops are on the brink of destruction and do not require our full war efforts to take the final pieces of their nation.
It is very likely in this Vietnam/Cold War-esque conflict that the Golden Troops will crumble before we reach their capital. As a result we will be able to have regular fun events as well as our invasions, we should not expect a Golden Troop offensive for the rest of the war.
In this final struggle against the Golden Troops with Operation Olsztyn we shall seek complete and utter victory over them. Peace is not an option and all of their land will become ours at any cost. This is our plan to end the war that feels as though it has gone on for an eternity. (Sidie9 in PIC HICOM server)"
Operation: Olsztyn was deemed a success by PIC leadership, with the Golden Troops announcing their hiatus through a website post the very next day. In a second post, Golden Troops relinquished all of their land and announced their departure from the CPAN organization entirely, thus forfeiting the War of Rusting Hope. The People's Imperial Confederation were declared the victors of what is now referred to as the Fool's Gold Wars with a combined war score of 15-0-2 after eight full weeks of warfare.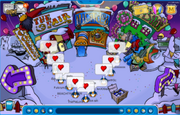 Post-war, according to Shallissa, morale in PIC was high, and maxes remained consistent. Focusing more on relaxed events, the People's Imperial Confederation remained steady throughout the September drop.
The People's Imperial Confederation celebrated its two-year anniversary event in October 2021. In a post written by Sidie9, she detailed each month of the Confederation's activity and highlighted key events and memories from PIC's two years of existence. PIC's Second Anniversary event titled the "Sidie's Gala" awarded trophies to PIC members for a variety of different accomplishments. Members voted in a poll for each award recipient and Commander LEGOMAN designed custom trophies for each winner. The event maxed a total of twenty-three penguins and served as a celebration of the People's Imperial Confederation's achievements throughout its two years of activity.
In late October 2021, the People's Imperial Confederation found itself involved in yet another war. The Vengeance Alliance, which originally consisted of the armies Help Force, the Army of Club Penguin, and the Red Ravagers were at war with the Western Bloc, which consisted of the Water Vikings, Silver Empire, and Special Weapons and Tactics. The Second Silver Rush War (also known as World War VIII) grabbed the attention of the Confederation, and consequently the Congress of Soviets were interested in getting involved in support of the Vengeance Alliance. After speaking to key alliance members, the People's Imperial Confederation officially declared war on the Water Vikings and joined the Vengeance Alliance.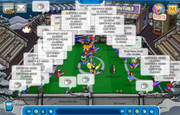 PIC's involvement in World War VIII started well, with the People's Imperial Confederation beating its third generation max record for the third time in its Invasion of Slushy with a max of 26 penguins.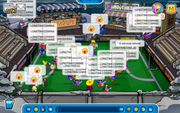 With the help of the Vengeance Alliance, the People's Imperial Confederation conducted a series of invasions against the Water Vikings. Under the leadership of Xing, Templars, a brother ally of the Confederation, revived the Red Dawn Allliance to support the Vengeance Alliance, providing assistance in various battles during the war. Despite never officially joining Vengeance, the Templars would lead battles alongside PIC in a number of invasions. In a shared alliance server, PIC led multiple battles alongside Vengeance leaders with all participating armies present. The People's Imperial Confederation held consistent sizes throughout the duration of the war.
Creator Sidie9 returned to People's Imperial Confederation leadership on the third of November to support her army during what she described as PIC's most important war yet. After five months of serving as Marszałek, Cabin0416 was inducted into PIC leadership on the 13th of November.
In what became known as the "Tale of Two Servers," the Western Bloc attempted to invade both HF and PIC simultaneously. After dividing forces, the Vengeance Alliance successfully defended both servers from the Western Bloc. PIC's defense of Pine Needles was deemed historic by the army and the server became notable to the Confederation.
On November 15th, 2021, World War VIII concluded with a peace treaty signed by all participating armies. The war against Water Vikings concluded with a war score of 4-1-1. Although no official winner was declared, a combined war score of 23-2-3 left the People's Imperial Confederation content and satisfied with their war contributions.
On the 19th of December, Legoman retired from PIC. Former Pizza Federation leader Hidcre took his place a few days earlier within the leadership. PIC went back to war shortly after with Trojans in a 'for-fun' conflict. The war came to an end a few weeks later when Trojans shut down for unrelated reasons at the end of the year.
On the 16th of January, PIC participated in CP Army HQ's New Year Bonanza. However, they placed last, losing all 3 rooms they participated in. In the final days of January, Water Vikings started drama with PIC. In a post, the army argued that PIC were using an account previously used by Proditor [now known as Worror and no longer wanting to go by his old name] was being used by a PIC member, referring to 'Proditor' as Worror's 'dead name'. PIC took offence to this, describing in a response post how the usage of a term referring to a struggle of the transgender community was "extremely belittling" to them, especially as PIC creator Sidie9 is transgender. They further suggested that Water Vikings leader Aaronstone frequently makes jokes about hating women. Water Vikings responded with another post, in which they admitted the usage of "dead name" was unnecessary but explicitly said they wouldn't retract it, and further argued that Aaronstone's comments weren't meant to be taken seriously and highlighted that Sidie9 had previously made similar comments. In a final response post, PIC further condemned Water Vikings as toxic. Hostilities didn't escalate to a war because of the treaty established four months prior after World War VII.
During the chaos, Cabin retired from the PIC leadership. On the 2nd of February, Legoman took Cabin's place, making his return to the PIC leadership in what looked as if would mark a new era for PIC. However, after just two more events, PIC vanished off the radar. They hosted just three events recorded by CPA HQ and none of these events appeared on the PIC website. On the 17th of February, the PIC leadership finally announced that events would be dropping off in frequency as the leadership became more busy in their own lives. Some investigation into the PIC server suggests that some events were scheduled in the first few weeks, but that they were cancelled due to low attendance.
Some more light appeared to be shed on the situation when PIC released a post on the 20th of January. In it, PIC claimed that they had discovered that former leader Cabin had recruited members of the PIC staff team into his gaming server as moderators and had been recruiting for his server from PIC. They alleged that this had been evident after a scheduled practise battle with ACP had to be cancelled because members of PIC who would have attended the battle were instead at an event in Cabin's server which had been scheduled at the same time. PIC directly stated that Cabin's actions could only be described as "troopstealing." Cabin completely cut off PIC at this and joined Templars. PIC and Templars also broke off their allyship. Shortly after, Legoman resigned from PIC, Shallissa retired from her position and Sidie9 also announced she would be stepping back from active leadership. In place of them, it was announced long-time HICOM members Maya, Sam and Lizzie/Langly would be joining Hidcre as PIC leaders, marking the dawn of an entirely new era for PIC.
Uniform
The PIC uniform has evolved since the initial uniform. Here is a gallery of all of PIC's uniforms.
Leaders
Generation 1
Sidie9/Eva/Jemma
Sirproditor/Xgthrecgtejm
NotManuGinobili
Generation 2
Sidie9 (2)
SupremeP0wer/LuckyLuigi
NotManuGinobili (2)
Lunch Room/Emma
Say4321/Phoebe
Rowan Alden/Attai
Generation 3
Sidie9 (3)
Lunch Room/Emma (2)
SupremeP0wer/LuckyLuigi (2)
Shallissa
Say4321/Phoebe (2)
Aydoon2
ThePieLord
LEGOMAN
Shallissa (2)
SupremeP0wer (3)
Sidie9 (4)
Cabin0416
Hidcre - Current Leader
LEGOMAN (2)
Lizzie/Langly - Current Leader
Sam/Sumiz - Current Leader
MayaP17 - Current Leader