Pizza Bois United (PBU), known as Pizza Bois, was an army on Club Penguin Rewritten founded by an unknown user in 2018.
History
=== How they appeared ===
The Pizza Bois United appeared in Club Penguin Rewritten, identical to the Pizza Bros, later, they decided to make their own army as they gained in popularity late in July 2018 after the Pizza Bois and The Pizza Boi Rebellion examples.
Activity
=== Most Visited Places ===
The PBU members usually come in the most popular places around
Club Penguin Rewritten
as
Pizza Parlor
(their home place),
Town
,
The Beach
and
The Mine
.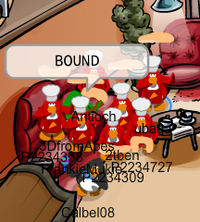 === Manifest ===
Their manifests reach over a few members online at the same place and their raid became daily.
Pizza Bois United are the best known for their aggressive way of promotion, using as Motto: "In Crust We Trust", "In Cheese We Please" and "We The Pizza Bois".
=== Turning The Club In Red ===
On August 10th, 2018 the PBU raid made the color lights from
The Club
to turn into red, including the floor.
=== PBU vs. Miners: The War ===
On August 7th, 2018 the first serious bite between Bois and Miners began in The Mine, after a long campaign of pizza promotion through different places made by the red penguins.
The leader of the group, ubaqu, gained a spot in front of the army for starting a revolution with the miners, the main reason being the recognition as the biggest ensemble in present, on Club Penguin Rewritten.
The War started with a battle in words, followed by a true snowball fight into miners home place. The event registered the greatest number of PBU members in The Mine, this month. The first episode was partially won by Pizza Bois due of the amount of miners that left the place.
The second episode of the war took place on August 10th, 2018 at the same place.
Since their activity became bigger, The Red Pizza Bois appear on a series called "PBU Series" on YouTube, hosted by the actual leader of the group (
ubaqu
):
https://www.youtube.com/playlist?list=PL_iOIwIBv_uV-31HMOxLLHdPIKoMUAW__
The PBU members
have the regular pizza outfit, they have the exact same color as the Pizza Bros.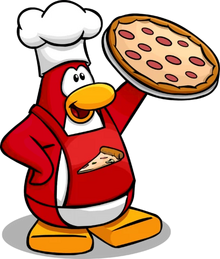 == Website and Discord ==
Their website is https://mwvr8w.webwavecms.com/
Their discord server is https://discord.gg/wWdHz7
Community content is available under
CC-BY-SA
unless otherwise noted.