Popsiclebeak (or Popsicle) is the former leader of the Rebel Penguin Federation and RPF Legend.
Biography
In 2012, Popsicle discovered Club Penguin armies. He associated himself with the Nachos, but never officially joined the army.
In 2013, Popsicle joined the
Army Republic
, but was extremely inactive. His inactivity caused him to be kicked from the army.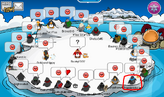 On August 8, 2016, Popsicle joined the RPF. He was extremely active in the RPF and attended most events. Popsicle fought in the war against the ACP, and was present at the Invasion of Snow Fort, where the RPF captured the server from the ACP.
Popsicle was promoted from Private First Class to Corporal on September 8, 2016, and quickly rose through the ranks, becoming a Major within that same month. He was promoted to Brigadier General (RPF Moderator) on September 17, 2016.
By October 2016, Popsicle held the rank of Major General. After winning an RPF Costume Contest on October 1, 2016, Popsicle was promoted to Lieutenant General. Popsicle joined the RPF Ownership on January 14, 2017. His commitment and determination still strong, he was soon promoted to 2ic and was subsequently promoted to Rebel Commander by Silverburg on May 23, 2016.
Along with Silverburg and Chip, Popsicle pioneered a new recruitment strategy which has seen RPF membership increase dramatically to 700+ members.
On December 7, 2017, Popsicle was among the members of the Ownership that voted to have the RPF Legend Elmikey banned from the RPF. This vote was the spark of the RPF-RPM War.
Popsicle has become well-respected by many members of the RPF, and is revered as a popular leader who has led the RPF into its "most successful" era. On the 21st of May 2018, Popsicle became an RPF Legend, a role given to him by Commando717, making Popsicle the first Legend of the post-Club Penguin era.
Accomplishments
Community content is available under
CC-BY-SA
unless otherwise noted.