Jurassic World: Dominion Dominates Fandom Wikis - The Loop
Play Sound
ROYGBIV was a short-lived army on Club Penguin Rewritten founded by Tofuwu and SirButternut, who were known to talk in ALL CAPS. ROYGBIV was founded in the Lighthouse on the server Sleet, where members would buy an instrument and play standing in rainbow order. Beginning in the evening on July 7th, 2018, the army went through three "generations" before finally concluding at 12 AM on July 8th, 2018.
History
Generation One
 During Generation One ROYGBIV was just beginning to pick up off the ground. While it didn't gain much traction creating the signature rainbow line was attempted and successful. This, however, didn't last long under the invasion of the Tuba Army, where many of the members did not last, except for a few.
Generation Two
 After the invasion and scattering of Gen I it was thought that ROYGBIV wouldn't live through another generation. That was until more penguins joined in. Generation II was without a doubt the longest lasti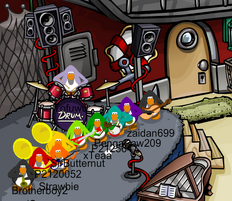 ng and most memorable generation. Starting out with a meager ten members it began to grow and continue to thrive! Unfortunately this growth would only lead to the downfall of ROYGBIV
Generation Three
Generation Three was the last known generation of ROYGBIV. After the departure of SirButternut and other veteran members the army moved over to the Iceberg. Here, ROYGBIV's popularity skyrocketed, and with combined efforts were able to get the Berg Drill! stamp. After the departure of more members and Tofuwu the whereabouts of the remaining members become unknown.
Enemies
Tuba Army
During Generation One the Tuba Army raided the Lighthouse. While harmless at first the increasing number of members overwhelmed the small army, and many members either left or joined the Tubas. They left later on, leaving a fraction of what used to be ROYGBIV behind.
Notable Members
SirButternut (Joined Generation One)
Tofuwu (Joined Generation One)
Brotherboy2 (Joined Generation One)
xTeaa (Joined Generation One)
zaidan699 (Joined Generation Two)
PengaPaw209 (Joined Generation Two)
Himawari987/P2125647 (Joined Generation Two)
Strawbie (Joined Generation Two)
P2120052/??? (Joined Generation Two)
Sanity01 (Joined Generation Three)
MutanoRaven (Joined Generation Three)