Jurassic World: Dominion Dominates Fandom Wikis - The Loop
Play Sound
This article is incomplete.
Please help the Club Penguin Army Wiki by expanding this page. Once done, please remove this template.
The Serving Weapons and Toppings War was a conflict fought between Special Weapons And Tactics and the Pizza Federation in December 2020.
Preface
Tensions between SWAT and PZF had been brewing for months after conflicts arose over the Christmas Chaos X tournament, where PZF defeated SWAT apparently with the support of the Templars. Due to that, coupled with PZF having a history of exhibiting "Anti-SWAT" behavior and allegations of troopstealing, SWAT officially declared war on PZF on December 14, 2020.
Declaration
SWAT declared war in a brief website post where they called PZF "cowards" and other derogatory terms. They additionally said that the army could not support itself without allies. This declaration was titled "One Slice Too Many." The declaration itself is as follows:
"SWAT DECLARES WAR ON THE PIZZA FEDERATION
War Terms:
No multi logging
No server transfers during the war (Unless surrendering land to SWAT)
No pings from other armies for invasions/ defences
Dual-enlists are allowed
NO doxxing by PZF or ANY ALLY is permitted
PZF can surrender at any time, subject to SWAT's demands"
War Overview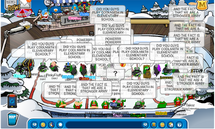 The war began with the Battle of Cozy, where SWAT intended to invade Cozy from PZF. SWAT and PZF had similar sizes during this battle. The verdict of this battle was called in favor of PZF, which set the tone for the opening half of the war. PZF was able to receive the support of the Army of Club Penguin along with the Silver Empire, while SWAT had the support of the Ice Warriors. The Pizza Federation saw victory in the majority of battles within the first half of the war. This prompted Island Invaders leader and former SWAT second-in-command LEGOMAN to call for the merge of the Island Invaders into SWAT to support the latter in their war effort. Around this time, SWAT was able to win the majority of battles in the final half of the war.
Conclusion
The war came to a stall after a ceasefire was made between the two armies due to the upcoming holidays. However, due to the Flash-Nemesis War, this conflict was never resolved and ended with a war score of 3-3. Due to the later Flash Nemesis War conflict between SWAT and ACP, the Serving Weapons and Toppings war was rendered unable to complete due to a treaty agreed to by both armies, thus ending the Serving Weapons and Toppings War in a tie between the two armies. The war could have resumed after the expiration of the treaty on February 28, 2020, but the war ultimately concluded as a tie after the Pizza Federation announced its shutdown.