Jurassic World: Dominion Dominates Fandom Wikis - The Loop
Play Sound
This article is incomplete.
Please help the Club Penguin Army Wiki by expanding this page. Once done, please remove this template.
This page is currently under construction.
This page is undergoing renovation by a wikiproject or editor. Please help out if you can. Once done, please remove this template.
The Special Weapons And Tactics army, also known as SWAT, was created by Army Legend Ganger90 in the year 2009. When SWAT was initially made, It was a small army but as time passed, SWAT was able to grow larger and stronger, eventually obtaining major army status. SWAT has beat the likes of the Ice Warriors, Doritos of Club Penguin, Underground Mafias Army and the Army of Club Penguin.
Early History
First Generation (2009-2011)
Originally teased by Godplayer123 when he briefly changed the name of the Dark Warriors to SWAT, although the name was reverted back to Dark Warriors later. Ganger90 formally created the SWAT army in 2009. They were initially founded as a large base of rogues on Mammoth, where a xat and site were eventually developed. While not much is known about the army from 2009-2011, it is known that they participated in several large wars, and consistently placed around the lower end of the Top Ten. Their hatred for the Army of Club Penguin (ACP) was alive and apparent within the army's early days.
Modern Era (2012-2013)
The modern era of SWAT took off in 2012, where they frequently were placed in the middle of the Top Ten. This era of SWAT was led by S Cargo2 and Cul8rsl, and for the most part without the involvement of Original Creator, Ganger90. They challenged the Army of Club Penguin successfully for the control of Mammoth, and were able to hit the number one spot on the Top Ten. They were also successful in beating ACP in the Semi-Finals of the CPAC Champions Cup, along with beating the Nachos in the Group Stage of the Tournament. They were able to have a very successful generation overall with consistent sizes of 35+ throughout the entire generation.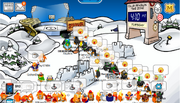 In 2013, SWAT made history after gaining the first spot on the Top Ten. SWAT also took place in the Black Alliance Vs. White Alliance war in 2013. This was primarily due to the fact that the Black Alliance's goal was to kill the ACP. SWAT and ACP have been enemies since their original creation. SWAT tumbled around in the top Ten for the majority of 2013, falling out temporarily and then returning to the top 3 was common for the army. While the army has not been wildly successful since then, they were able to max their largest sizes in their history in the Legends Cup. Under the leadership of Ganger90, Tacodaily, Reacon, Paco, and Badboy, SWAT was able to max 45+ in the Legends Cup.
Instability Era (2014)
In June of 2014, SWAT was led by Stare3000, RapRocks669, Alina, and Reeses2011 while original creator Ganger90 had temporarily left his creation for the Light Troops. Ganger90 made his decision to depart from SWAT after a crushing defeat by the hands of their rivals ACP, leaving SWAT in the hands of his trusted leaders. This generation was able to max consistently in the range of high twenties to low thirties. This generation was relatively unproblematic, as they were not involved in any major conflict. This era was also a time of instability and uncertainty without the guidance of Ganger90. However despite that it proved to be extremely successful nonetheless.
CPO Code: RED Gen (2020)
After the return of Club Penguin, the return of SWAT occured in early 2020 Epic101 and Darklink begged Zuke to bring SWAT back. Zuke got permission from Ganger and reopened arguably the greatest SWAT generation to date. This generation was spearheaded by Zuke, Sweater, Darklink and S Cargo 2, in this era SWAT received a surge in their maxes upon the release of Club Penguin Online CPPS. This made recruiting much more accessible for armies and allowed them to reach peak maxes of over 100 troops on CPO. Eventually SWAT Godfathers, Tacodaily, Domsamillion and Lights717 joined the leadership team. SWAT was also able to have a red division that utilized custom items created by SWAT Leader Zuke, along with custom codes to obtain the items within the game. This generations sizes never dipped under 50 troops, and remained consistently high until the eventual shutdown of CPO.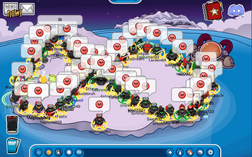 SWAT was also involved in a conflict with the Doritos of Club Penguin and Ice Warriors, in which SWAT sided with their allies, the Ice Warriors. After the conflict had subsided, the SWAT Leaders were able to lead a successful coup on Darklink due to Darklink being immature and creepy towards various girls within the army. Shortly after the coup of Darklink, Badboy joined the leadership team. Zuke was then forcibly removed from SWAT leadership by his fellow leaders. Afterwards, Badboy then decided that he wanted to declare war on the Ice Warriors and despite the obvious opposition from the rest of his leadership team. SWAT was not victorious in this conflict. They did not manage to win a single room in the entire duration of the war. This war proved as an extreme embarrassment to many members of SWAT, who began steadily losing motivation.
Transition to CPATG (2020)
After the shutdown of Club Penguin Online, armies were forced to migrate to a new CPPS, especially one compatible for army gameplay. SWAT along with most of the rest of the Army Community decided to transition to Club Penguin Armies: The Game. As a result of their loss in the war with the Ice Warriors and the transition to a new CPPS, SWAT found themselves weakened and as a result of their declining sizes they merged into the Doritos of Club Penguin. This merge was quite short lived, as it only lasted 2 weeks before Sweater, Sophy Bee and xfastx revived the SWAT Army. This generation was notably led by Sweater, Sophy Bee, xfastx, Sammidc and was able maintain consistent sizes ranging from 20+ to 30+ throughout the majority of the generation and were quite successful overall.
Club Penguin Army Hub Era
Sub-Zero Showdown (2020)
SWAT decided to take part in the Sub-Zero Showdown, where they were pitted against the Penguin Army Force. The Penguin Army Force neglected to show up to the battle, rendering it a forfeit and by proxy a SWAT Victory. These results were overturned however, when further analysis showed that SWAT had allowed its First Responders Firestar08 and LEGOMAN to attend, the league interpreted this as a breaking of the rule that prevented advisors from attending, though SWAT does not have an advisor role within its discord server. Despite the other army not showing up, SWAT was disqualified from the tournament. However, this tournament allowed SWAT to max a considerable amount of troops.

The Eagre Foray (2020)
See also The Eagre Foray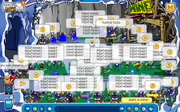 Much time after the eventual shutdown of CPATG, SWAT eventually moved operations to CPArmies.net, the new major CPPS for army gameplay. This generation of SWAT began as a Small Medium army and was able to reach consistent maxes of 15+. However, they were eventually flung into a conflict with the Water Vikings Army due to troopstealing allegations against SWAT Creator, Ganger90. This conflict was known as The Eagre Foray.Through this war the army was able to successfully max 25+ on numerous occasions, and fought very valiantly. in the midst of the lengthy war SWAT Leader in Training, Mare, was promoted to leadership. However, after about a month of fighting, SWAT decided to transfer all of their land to their close allies the Dark Warriors. This was initially deemed a win for the Water Vikings, however, due to a multilogging scandal involving Doritos Leader 32op and the Decree of the Shimmering Tides treaty signed between the Coup Crusaders and the Water Ninjas that prevented ally intervention within the war, it was ultimately deemed a SWAT Victory. With the end of the war also brought the promotion of former Elites and Ice Warriors Leader, Firestar08 to the SWAT leadership team.
Purple SWAT (2020)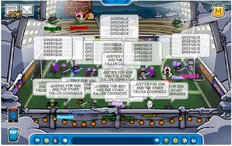 SWAT was eventually able to gain a purple division through the use of custom items added to CPArmies.net by former leader Zuke. The division was released following The Eagre Foray conflict. This allowed them to do divisional battles and have an additional custom army code within the game. Despite being the basic uniform, the green division was able to successfully outmatch their purple counterparts on numerous occasions. This was despite the green division only having one leader, in contrast to the purple division having three leaders for most of its lifetime. During the majority of the divisions, green was led by Firestar08 while purple was led by Kaliee77, Belts and Coolguy. However, Aubz was added to the roster of green division leaders after she returned from a brief hiatus. The divisions were short lived due to the shutdown of CPArmies.net at the end of the year 2020, however were a favorite of many troops and leaders alike.
Servings Weapons and Toppings War (2020)
See also Serving Weapons and Toppings War
The Servings Weapons and Toppings War was a war initially begun by SWAT on December 14, 2020 against the Pizza Federation (PZF). This conflict arose due to SWAT believing that PZF was carried by their allies and had exhibited "Anti-SWAT" behavior upon numerous occasions. In the midst of this conflict, the SWAT allies, Island Invaders announced their merge into SWAT in order to help offer their troops and resources in favor of the war effort. This merge introduced such notable high command members as LEGOMAN as a Leader in Training, along with Caitlin and Plazimo as Third in Commands to assist their recruiting talents in favor of SWAT. This war was however never finished, as both armies agreed to a cease fire for the final days in December due to the holidays.
Flash Nemesis War (2020)
See also Flash Nemesis War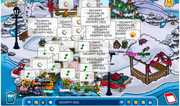 The Flash Nemesis War was a final war between rivals from creation, SWAT and ACP. ACP declared war on SWAT on December 26, 2020, with only 5 days remaining before the end of the CPArmies.net game and the Adobe Flash program itself. In this breif conflict ACP was able to successfully take all of SWAT's land within this short timespan, through the use of battles spread across multiple timezones. After taking a massive hit in previous battles with ACP, it seemed as if SWAT could not fend off ACP. SWAT eventually decided to neglect the last few war battles, and not show up in defense of their territory. As a result of this and the massive size difference that ACP was able to bring in comparison to SWAT, ACP was able to successfully win and negotiate a treaty with SWAT that also ended the Special Weapons and Toppings Conflict.
Post Flash Era
Club Penguin Chapter 2 (2021)
Following the shutdown of Adobe Flash, armies were forced to scramble to find an alternative Club Penguin Private Server to continue on. The Club Penguin Army Hub was able to successfully partner with Club Penguin Chapter 2 and transfer all of their army codes from CPArmies.net over, so it seemed like a viable option for SWAT. SWAT held numerous events on Club Penguin Chapter 2, but the game ran extremely slow, and troops began losing interest due to getting lagged out of the game numerous times. Despite this, SWAT was able to maintain consistent maxes of around twenty penguins on Club Penguin Chapter 2.
Club Penguin Rewritten (2021)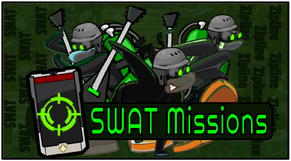 Once the highly anticipated HTML5 Club Penguin Rewritten CPPS was finally released, SWAT immediately switched over to that for their events. Despite not having an army code, they urged troops to wear black, and on their first event alone they were able to reach peak maxes of twenty-five penguins. They went on the perform consistently well, averaging about twenty penguins per each event on Club Penguin Rewritten. Eventually on February 6, 2020 SWAT engaged in a practice battle with the Army of Club Penguin. This marked a historic moment, as it was the first post Adobe Flash shutdown practice battle. SWATs operations on Club Penguin Rewritten continue as of the present. Following this historic moment, LEGOMAN and Susej were promoted to SWAT leadership on February 7, 2020. SWAT eventually established a rogue base on the CPR Server, Zipline. After the release of the February catalog, an official SWAT CPR uniform was able to be released. This the uniform consisted of the Black Parka, Red Ski Goggles, Scuba Tanks and Green Untied Sneakers. They additionally began holding brief missions on Zipline to further spread their influence.
March Madness Tournament (2021)
In March of 2021, SWAT was entered in the CPAHQ March Madness tournament. They were initially pitted against the People's Imperial Confederation army in the first bracket of the tournament. SWAT received the majority of the administration predictions from CPAHQ, and did not disappoint on the battlefield. On March 13, 2021, they successfully won all three rooms against PIC, allowing them to proceed onto the second round. This round placed SWAT against the Ice Warriors of Club Penguin. SWAT lost this round and was thus eliminated from the tournament. This tournament also signified the end of Ganger90's extremely long term as leader, as he stepped down to an advisory position. However, this retirement was short lived as Ganger90 returned after a few weeks of inactivity.
Legends Page Revamp (2021)
SWAT Creator, Ganger90, SWAT Godfather, Stare3000, and SWAT Commander-in-Chief LEGOMAN all worked together and looked through old event pictures dating back to SWATs founding years in an attempt to revamp the Special Weapons and Tactics Hall of Fame page on the SWAT Website. This was done as a way to honor the immense loyalty and dedication shown by the legends who paved the way for SWAT to be where it is today. LEGOMAN designed custom penguins and frames that were modeled after each SWAT Legend in their original uniform in an attempt to pay homage to all of the different personalities and people that make up the past and present of SWAT.
Project: Conquest (2021)
SWAT was briefly involved in the Club Penguin Army Headquarters' Project: Conquest tournament for a short period before removing themselves from the tournament to focus on the upcoming Legends Cup tournament.
Operation: Templaria (2021)
See also Operation: Templaria
Operation: Templaria was a conflict that had been brewing for months between SWAT and the Templars, culmination in a total state of war between both nations. SWAT delcared an official state of war in a website post entitled "The Unholy Cowards," written by SWAT Commander-In-Chief, LEGOMAN.
SWAT Empire & Other Info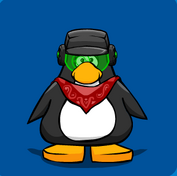 Historic Information
The SWAT own 36 - 40 servers, Their historic capital is Mammoth along with their former Co - Capital being Mittens. There were previously allies with Light Troops, Pirates and Redemption Force. Their old enemies consisted of the Underground Mafia Army and Ice Warriors. SWAT are an independent army but their government is based around Ganger90. They had a total of 100+ Troops.
Their original uniform was quite similar to the uniforms of the Dark Warriors and Rebel Penguin Federation. However their uniform only consisted of a few items and was relatively easy to obtain within the original game.
CPAH Empire (2020-2021)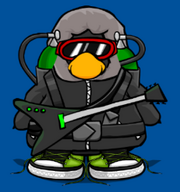 SWAT was formerly enlisted in the Club Penguin Army Warfare League, but holds no territory as of January 2020. They are allied with the Rebel Penguin Federation, Ice Warriors, Fighter Pilots, Water Ninjas and have the Golden Troops and One Direction Army as brother and sister allies respectively.
Current Empire
Due to the absence of a proper defined league and map, SWAT currently holds no land as of April 2021. However, they are present within the Club Penguin Army Headquarters media league. Their current allies include the Ice Warriors and Rebel Penguin Federation. Their current enemies include the Water Vikings, Pizza Federation and Army of Club Penguin, according to the empire page on their website.
Leaders
1. Ganger90
2. Octavian123
3. Deliburger
4. S Cargo2
5. Jerry2cool
6. Cul8rsl
7. Step up 646
8. Spiderguy22
9. Np3000
10. Shadowclub6
11. Reece
12. SaW
13. Unknown
14. Albaro Lord
15. Stars34
16. Percyjackson2
17. Beast
18. Mark
19. Spi101
20. Crazy
21. Benjarkin
22. Monster
23. Tacodaily
24. Tymatt
25. Hurricanex1
26. Spikey
27. Smashmac
28. Domsfantastic
29. Coff
30. Badboy
31. Stars34
32. Reeces2011
33. Dpd2000/Brady
34. Elmikey
35. Lights717
36. Tompenguin6
37. Tempah
38. Stare3000
39. Alina
40. Raprocks669
41. Vince
42. Reacon
43. Paco
44. Tony
45. Gangsta
46. Huskers
47. Holo2
48. Braveboy
49. Nitrohammer
50. Konrad
51. Apollo
52. Zeer
53. Zuke
54. Jaylen
55. Conor
56. Domsamillion
57. Fast
58. Sophy
59. Izzy
60. Maroon
61. Simmonds2000
62. Sammi
63. Sophie
64. Hiro
65. Coolguy
66. Aubz
67. Kaliee
68. Mare
69. Firestar08
70. Susej
71. LEGOMAN
Trivia
SWAT was initially created in 2009 by Ganger90
SWAT has risen extremely quickly since their creation
They have had a total of 71 leaders
Gallery
Learn More