The Special Weapons & Tactics [SWAT] Were created by Ganger90 in the year 2009. When SWAT was made, It was a small army but as the years went past SWAT grew bigger. SWAT has many wars but the biggest war was with Ice Warriors in which they lost.
History:
Founded by Godplayer123 when he changed the name of the Dark Warriors to SWAT, although the name was changed back to DW later. Ganger90 resurrected the SWAT army in 2009. While not much is known about the army from 2009-2011, it is known that they participated in several large wars, and hung around the bottom of the top Ten. Their hatred for the Army of club Penguin was alive in the army's early days. The modern era of SWAT took off in 2012, where they frequently were placed in the middle of the top Ten. This era of SWAT was led by Cargo2 and Cul8rsl,without the help of Ganger90. They challenged the ACP successfully for the control of Mammoth, and were able to hit the second spot on the top Ten, with sizes of 35+.
In 2013, SWAT made history after gaining the first spot on the Top Ten. SWAT also took place in the Black Alliance Vs. White Alliance war in 2013. This makes sense as the Black Alliance's goal was to kill ACP, and SWAT and ACP have been enemies since their creations. SWAT tumbled around in the top Ten for the majority of 2013, falling out and then returning to the top 3 was common for the army. While the army has not been wildly successful since then, they were able to max their largest sizes in their history in the Legends Cup. Under the leadership of Ganger90, Tacodaily, Reacon, Paco, and Badboy, SWAT was able to max 45+ in the legends cup.
SWAT Empire & Other Info:
The SWAT own 36 - 40 servers, There capital is Mammoth and their Co - Capital is Mittens. There are allies with Light Troops, Pirates and Redemption Force. There Enemies are Underground Mafia Army and Ice Warriors. SWAT are an independent army but their government is Ganger90. They have a total of 100+ Troops. Now here is their official uniform:

There unfirom is quite Similar to Dark Warriors and Rebel Penguin Federation, But their uniform is barely anything and really simple.
Trivia:
SWAT were created in 2009 by Ganger90
SWAT has risen very quickly since there creation
They have had a total of 42 leaders which is a record!
They have Lost to Ice Warriors in a Huge War!
Gallery: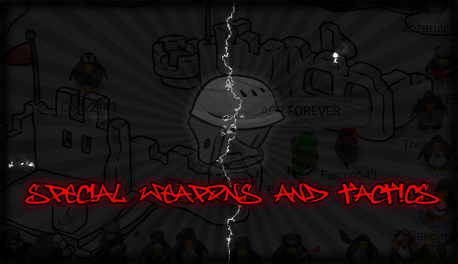 Community content is available under
CC-BY-SA
unless otherwise noted.