The Acids is an army that was formed in the summer of 2017. It was closed during the Winter of 2017 and 2018 and made a return during the summer of 2018.
History
Formed on June 15, 2017, the Acids has been a group about having fun and being a part of the team. Originally, the group was just a few penguins that performed in the Pizza Parlor. These few penguins all had two things in common: green skin color, and the Acid! Guitar, a hidden catalog item from the Gift Shop. As more and more penguins joined in and brought their keytars and guitars, the group decided to name themselves the Acids (even though a lot of different instruments were being used, most of us still had the Acid! Guitar on).
​The group traveled to different rooms to perform for the Music Jam Party that was still taking place, and they got more and more members to join as time went on. By that point there were many more instruments added, and even some dancers and singers. The group was recognizable every room that they went into, since they yelled their name a lot and kept trying to get more members. After a couple of hours, the group was starting to dwindle, and only four of the first five members were left. Amazing Me got the idea to start a YouTube Channel for the group, and then Felicityfox decided to create a blog and Discord chat so that the group would be able to stay together and become permanent.
Gallery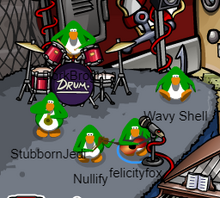 Community content is available under
CC-BY-SA
unless otherwise noted.