UMADKE
Information
Full Name
UMA-DKE
Founded
December 5th, 2017
Status
Inactive; formerly major alliance
Government
Military-Juanita
Size
5-10
Famed For
Wining the

UMADKE, or Underground Mafias Army-Dark Knight Empire was the brother alliance name of UMA and DK before the NVA. It was successful in fighting the War of Roman Subjugation, and was the head start of the New Viking Alliance.
Founding and War
The UMA and the Dark Knights had a brother alliance before this ever became here. The armies both fought together and were good buddies. On December 5th, the Romans declared war on the Dark Knight Empire. The UMA also was considered to be declared on. They began the war on December 5th, 2017 with a battle with on the DK. Then it went forth with UMA and the Dark Knights battling together. The would shout "UMADKE" in the chat and in the game. They saw many victories. Eventually the alliance was replaced by the NVA. This was founded by the United Republic of Penguins. UMA was not happy about this and left it after the war.
Memories
Here are some pictures of UMADKE: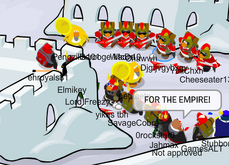 https://cpromans.com/2017/12/07/the-unexpected-loss-at-abominable/
Romans admitting they were beaten by the UMADKE Forces, December 7th 2017
https://cpromans.com/2017/12/09/immediate-halt-to-all-relations-with-the-nva/
Romans cancelling the war, December 9th 2017
Community content is available under
CC-BY-SA
unless otherwise noted.