This page's neutrality is disputed.
This page currently is violation of NPOV policy. This page will be worked over time to meet standards. Please do not remove this message without the permission of an administrator or bureaucrat.


Ugly also known by Uggo, is a current second-in-command enlisted in the People's Imperial Confederation. He had previously gained experience in the Small Medium armies community by leading the Tree Cult, Dark Champions, and Fire Warriors armies alike.
Army History
Introduction to Armies
Ugly was recruited off of Club Penguin Online in February of 2020 into the Aliens by S/M Army Legend BestPenguin (BP). He was able to recruit and rise through the member ranks. After a period, Ugly was introduced to the Tree Cult as both armies had good relations at the time. This resulted in Ugly ultimately joining the ranks of the Tree cult. In this time, he managed to climb through the ranks of high command and by April of 2020 he was able to reach the leader status.
Tree Cult (2020)
With the leadership of Ugly, Qwerty, and Travis, they were able to reach great heights in their army. However, this did not last for long, as the Tree Cult hit a massive decline due to low activity from the creator and the other new leaders. This resulted in the Tree Cult ultimately shutting down and rebranding to a gaming hub.
Few months passing, he found out that the server was running on a even worse inactivity, deciding to revive the Tree Cult once again. This time, requesting help from various individuals to help such as AustinFraud, Pran, LEGOMAN, ot_ter. With their solid advisory and leadership team, they were able to regain Tree Cult's legacy back.
The new leadership was able to completely revamp the uniform and immensely expand foreign relations, as well as obtain sizes larger. After a few days, Ugly was forcibly removed from his leader position for an immense insubordination that he promoted the two latest leaders without the creator's permissions. This resulted in a piece of the leadership objecting the unfairness in Ugly's demotion, due to disliking the constant miscommunication. This coupled with the fact that the Tree Cult had once again slipped into a recession prompted Tree Cult Leader LEGOMAN to propose a merger into various armies such as the Water Troops and Special Weapons And Tactics. This caused a dispute, as ot_ter wanted the Tree Cult to merge into the upcoming Skateboarders, AustinFraud wanted them to merge into the Dark Champions, whilst the rest preferred a complete shutdown.
Despite the disputes, the Tree Cult continued hosting events normally, but it was not long before they noticed a huge neglet once more. The leadership were stuck into the two options they had on their hand, either to shut down again, or to merge to suggested armies. Both choices were diligently considered, but the creator's request was clear, prompting the advisory and Ugly to decide that the army should shut down instead of merging. The Tree Cult officially shut down on October 25, 2020.
Dark Champions (2020-2021)
After leaving Tree Cult, Ugly saw his close friend Austin lead the Dark Champions along with Elites legend Simmond2000 and Overload. He messaged Austin for an offer to join Dark Champtions, prompting him to be offered third-in-command, which he would later accept.
Being an active High Command as he helped in recruitement and event attendance, giving him a quick rise through the high command ranks. Dark Champions was a powerful S/M army at the time, as they partake in many community events such as Aces of Ausia & Christmas Chaos.
Later, all leaders started shifting their focus from DC for multiple reasons, coming to the agreement that they should colonize under Elites, benifiting both armies. On 13th Decemeber 2020, they announced the colonization of Dark Champions and with it the promotion of 2 High Command to the leadership, Ugly & Kook. He was also able to obtain a staff role within Elites due to the colonization.
At the time, there was a huge hacking spree on CP Army Hub, and were targetting armies that were doing events and are still up and running. Most armies shutdown, so the leaders were left with no choice but to shutdown Dark Champions for good. The server then rebranded to a chatting hub. However, Overload went on an urge to recieve the server's ownership, Austin refusing at first though unfortunately passing it to him later. This led to Overload completly defacing what was left from Dark Champions.
Fire Warriors (2021)
Just a couple days after the defacement, Ugly received a DM from a former SWAT leader, Sweater. Asking if he's still interested in armies and offering him 2nd In Command. The newly revived Fire Warriors would go on to participate in huge tournaments such as March Madness, facing off against the Silver Empire with a overwhelming max of 30+ on the first round, unfortunatly not being able to win. With the huge amount of success they were making for the next months, they would go on to max an average of 15+.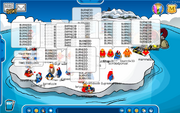 The Warriors participated in the Legends Cup XI, beating the Spartans on round one making them reach the quarter finals against the Rebel Penguin Federation. Unfortunately not going much further than that, due to the massive size of RPF. Days after the finals of LCXI, with RPF coming out victorious like always. CP Army HeadQuarters announced their second time tournament, specifically made for small and medium armies, Challengers Cup 2.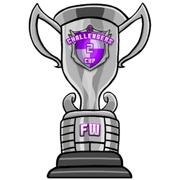 The Fire Warriors were put against the Golden Troops first round, winning with a 3-0 score. Reaching the Semi-Finals against the Smart Penguins, with another 3-0 win. They finally reached the finals, facing off against their allies PIC also known as People's Imperial Confederation. Although it was a very close battle, the Fire Warriors won the finals with a 3-0 score once again, making them the winners of the tournament. Mid-way the tournament, the leadership decided to promote their newest leader since their opening, Ugly, after being a Leader in Training for more than 5 months.
Days after the tournament, there was a huge conflict between all the leaders of the Fire Warriors, mainly AustinFraud and Sweater, which can be explained here. The result of the dissension led to AustinFraud being banished from the army and getting his legend status revoked. There were also a couple of leader promotions such as Rach and TyMatt, as well as some high command promotions.
Few days after the incident, Ugly came off with a retirement post explaining that he will step down from his leader spot to Advisor. Reasons which could be explained here. Sweater later would write an honor post towards Ugly which can be found here, awarding him Warrior of the Week.
People's Imperial Confederation (2021)
After taking a week break from armies, he has gotten some recommendations to join PIC from various people, mainly SupremeP0wer, since FW & PIC are brother allies. Ugly has joined the People's Imperial Confederation and is currently under the rank General-polkovnik, equivalent to 2nd in Command in PIC.
Civic Service
CP Army Hub (2020)
Ugly's first league to join was Club Penguin Army Hub as Judge-in-Training on December 2020. Being able to judge multiple battles, such as Aces of Ausia finals, later becoming a Judge. Due to the hacking incident CPAH faced, it closed down and with it his judge role.
CP Army Network (2021)
On May 22th of 2021 Ugly applied for Reporter-in-Training in Club Penguin Army Network, being accepted. He would create news arcticles for the organization, being promoted to Reporter about a week later. Later applying for Judge. Ugly tried to apply for Head Judge, but was given Moderator instead by F6.
CP Army Headquarters (2021)
A day after Ugly got Reporter in CP Army Network, he applied for Judge on Club Penguin Army Headquarters. He didn't have much chances to judge, due to a low amount of battles that are not war affiliated, but still managed to judge lots of battles in the community event Project: Conquest. On August 29th, he stepped down from his judge position due to inactivity. On September 19th, Ugly would rejoin CP Army Headquarters as a reporter.
Achievements
Statuses
Tree Cult Legend Status. (September 5th, 2021)
2nd-tier Legend Status (FW, August 11th, 2021)
Champion Status. (FW, April 8th, 2021)
Warrior Status. (FW, April 8th, 2021)
Skateboarders Veteran.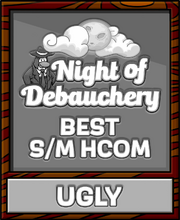 Accomplishments
Led the Tree Cult to maxes of 30+ in its Golden Era.
Led the Challengers Cup 2 finals to a 3-0 victory.
Best S/M army HCOM Award (CPAHQ Night of Debauchery 2021)
Chaotic Evil Award (CPAHQ Night of Debauchery 2021)
Rewarded FW Warrior of the Week.
Miscellaneous
8th Leader of Dark Champions.
40th Leader of Fire Warriors.
Sustained Leader in Training in Fire Warriors for 6 months.
Had access to Austin's Waifu Dungeon.
Won the Fire Warriors divisional themed week, with 500+ points differential and a 3-0 battle win.
Earned all of FW's member medals.
Fire Warriors best S/M army Award. (CPAHQ Night of Debauchery 2021)