Jurassic World: Dominion Dominates Fandom Wikis - The Loop
Play Sound

Vspjimbo, also known as Poppy, was a former army leader and currently is the oldest recorded player to ever participate and lead in all Club Penguin Armies at a whopping 76 years of age.
History
Introduction to Armies
Vspjimbo was initially recruited into armies through his grandson LEGOMAN incessantly asking him to join. He eventually decided that because LEGOMAN had previously recommended him to League of Legends, that maybe Club Penguin would be enjoyable. He was not correct.
Leadership
Vspjimbo was eventually thrust into a leadership position in LEGOMAN ARMY HOO RAH! after attending one event. Vspjimbo was still learning how to do tactics, and did not fully grasp the concept of armies as a whole. He eventually learned how to do emote tactics and finally learned how to command word tactics. As a perk of being leader, he was eligible to get a nameglow, which could help him locate his penguin among the crowd, something he had struggled with. He was also able to lead tactics within the discord voice chat.
SWAT Career
He eventually joined the Special Weapons And Tactics army along with his grandson and served in The Eagre Foray conflict against the Water Vikings. He was able to climb through the ranks all the way to becoming a Security Agent. He did struggle with finding out how to stand in formation, but his nameglow proved beneficial and allowed him to come to multiple events and battles. He eventually joined the Island Invaders and consistently voice chat led for them. He eventually decided to retire from armies to focus on his League of Legends career instead.
Achievements
LEGOMAN ARMY HOO RAH! Medal of Honor
Oldest ever recorded participant of Club Penguin Armies
LEGOMAN ARMY HOO RAH! Legend Status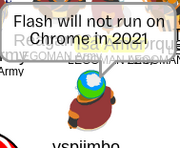 Quotes
"Flash will not run on Chrome in 2021"
"kiss me u fool"
"fun i the mud"
"goodbye Doopy Trump"
"do i have to be here"