Jurassic World: Dominion Dominates Fandom Wikis - The Loop
Play Sound

The War on EGCP Imperialism was a war between the Elite Guardians of Club Penguin and the Romans & Underground Mafias Army alliance.
Background
Prior the war, with the advent of the Club Penguin Army Syndicate map, EGCP expanded it's empire through it's colonies and mother armies. By mid February, it was the biggest empire on the map, causing more armies to become wary of their presence on the map. UMA by then openly criticized the Elite Guardians, but took little action to back it. After the UMA-Romans War, both parties agreed to fight against the increasing threat of EGCP.
Overview
The war began on February 17th, 2018, the end of the UMA-Romans War.
Battle in Blizzard
At February 18th 2018, 7:10pm EST, the UMA invaded Blizzard in OldCP, along with Romans, CPC and JPCP. EGCP and WN logged on shortly after to defend
In the beginning, UMA maxed 2 soldiers. After roughly 15 minutes, they maxed 5+. EGCP maxed 11. Romans and CPC maxed roughly 12.
White Out defense
In the same day, 35 minutes after, EGCP and UMA started logging on White Out. The UMA didn't follow the rule "Attacking Armies seek out the defending Army during an invasion" but EGCP kept defending. After 5 minutes waiting in the Forts, they decided to seek for UMA, and found them on the Town. Some UMA soldiers starting logging off before the set up time.
Frozen offensive
At 8pm EST, EGCP logged on Frozen and waited for UMA. Roughly 5 minutes after logging on, UMA started to attack. Both armies used classic tactics like bombs and emojis. While EGCP defended, UMA strangely froze and none of the troops were moving, and some UMA troops started to log off before the set up time again.
End of the war
The war ended on February 22nd, 2018, after UMA left the Club Penguin Army Syndicate.
Controversies
Both sides heavily critiqued one another. They created numerous public criticisms on each other:
"UMA is a cancer in the community, where you can find out that they're members are racists and xenophobics. Tha kind of group must be eliminated." said Cookky2, retired EGCP leader.
"It's a damn shame that they're only motive is to own the whole server map. It wouldn't classify them as an army anymore though, they are more of a union of smaller colonies that raise their right hand to some dirty Brazillian online." said Games, the UMA leader at the time.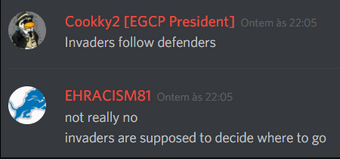 References
https://eliteguardiansofcp.blogspot.com.br/2018/02/declaracao-de-guerra-na-uma-parte-ii.html (Site is in Portuguese)
https://theundergroundmafiasarmyuma.wordpress.com/2018/02/18/declaration-of-war-on-the-elite-guardians/