Water Vikings is one of the armies which was created in 2010, out of a coalition of two or more armies. Water Vikings are remembered for being the first colonized army to break free of the colonization and become bigger than their host army. Their legacy is remembered by many, and their deeds inspire small armies to this day.
History
Original CP era
First Generation
The Water Vikings were created on December 28, 2010 by a merge from the Masked Vikings, led by Jed Pen, and the Water Troops, led by Zak. Both of them had little experience leading armies, but they gained support from the start by Bottlefanta and his army, the Ice Vikings. They were aiming for success, and it came fast. Their first event, their Invasion of Parka, they got 10+ in. But they weren't recognized until their Defense of Oyster, where they got 15+, crumbling the Platinum Warriors. Following that, they continued to rise. WV's first appearance was as the Number 3 army in the SMAC Small Top Ten in early January 2011. They only rose further from there, getting numbers of 15-20. They were recognized by CPAE, and entered the Small/Medium Army Brawl there. They were in the same group as the Tacos, who became a large part of WV History.
WV came out on top of the first round, with Tacos and another small army following them to the finals. They faced larger armies, such as the RPF and Parkas, yet still managed a close 2nd Place, getting about 20 at the finals and reaching Number 1 Medium. In the duration of the brawl, Tacos & WV created an alliance called the Blue Taco Alliance. They wanted both of them to get major. But an argument erupted during an invasion of Team Gold, in which Zak and Mount Rainy declared war on each other. Closely following the start of the WV-Taco War, WV died.
Second Generation
Following this, Soccer & Zak revived WV. This generation was viewed as the WV Golden Age at that time (of course better was to come), in which WV soared to 25-30 sizes. They reached the Major Top Ten, but soon began to crumble during a war with UMA. Both UMA and WV were taken down in sizes. The next couple months were spent just outside the Top Ten, and then, following Soccer's retirement, WV changed their name to the Pirates. Pirates reached Major in a mere 5 days, and died a month later by merging into the Sun Troops.
Third Generation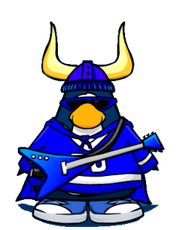 A 3rd Generation was brought up by Bepboy and Zak, in which WV yet again reached Major, but was not as big as the 2nd Generation. Later into the generation, the long-time WV Leader Zak retired, to focus on his career in Nachos. WV died soon after. And after a failed Resurrection generation, WV was brought back by Bepboy and Tylund. This generation hit medium straight away, and was major at one point, because of this Tylund received legend status.
Fourth Generation
In November 2012 Bepboy9 brought Water Vikings back, one week later Zak returned as well with a friend. This friend was called Brass Ass Dash/Dashing Snow, together this trio led WV to amazing heights earning them the name   'The Amazing Threesome'. This is the generation that WV were consecutively in the Top Ten, earning them a regular contender status for the Top Ten, they truly where becoming a legendary army. The first war this generation was with DD. The war was fierce and for neither army it was easy but WV got a good start to the war, it went on for about 2 weeks (which isn't too long), it ended by a signing of a treaty. WV was at a high point and then a shock came a while after the war with DD, Pretzels, who were listed on WVs allies list declared war on WV. This was a pretty short war and didn't last or long, it ended in a treaty. At the time between WVs war with DD and LT (they were a few months apart), there was a world war going on which WV decided not to get involved in, which was a surprise for a major army as WV was one of the few Top Ten armies that didn't join a side and probably the only consecutive contender that didn't pick a side. WVs first major war came when Light Troops declared war on WV. WV got off to a good start but LT hit at weekdays, which at that time was WVs weak spot, it was the first war that really brought trouble to WV as the war with DD and Pretzels wasn't too hard but towards the end of the war it was a tie. The WV and LT leaders had a meeting on LT chat, the result of the meeting saw that the war was to end in peace. Allot of changes came after that, at one stage WV went through a 3 week dip, where they struggled to get even 10 on CP, they had lost a good number of loyal troops. Then Bluesockwa1 joined as WV Leader gaining WV allot of popularity, then WV saw amazing sizes. It was at WVs St. Patricks Day Party in which they maxed 30+, and then again the following week. Things were looking good for WV and WV continued to get 20-25+ on CP. Then something happened that would change WV history, WVs site domain (watervikings.net), which was bought by what the WV leaders thought was a loyal 2ic. The owner of the domain, Qwerty raged after not getting leader and redirected the domain and WVs actual wordpress site (wvofcp.wordpress.com) so WV couldn't even get their wordpress site back. They were devastated  It took weeks for them to get their sizes back up and even then, their performance wasn't great but things gradually started to pick up. Then something BIG happened, Zak, who was the creator and one of the best leaders, if not the best, WV has ever saw retired. WVs sizes went up and down, some weeks they were good but some weeks they were bad, this also saw the retirement of Bluesockwa1. DashingSnow and Bepboy9 tried to hire a new leader, they hired 2 but both of them quit within the space of a week. Then Dash and Bep turned to the current owners of WV, they had many options but one seemed to stick out the most, they decided to promote Change to leader, but this wasn't to happen for another week or two. After another one or two weeks of going up and down in April 2013 WV seriously started to pick up, things started to look bright and they promoted Change to leader. Any wars after this will be/are recorded on this page.
CPPS era
The Water Vikings were revived by Kingfunks4, Pjayo, Buddy, Adden, Tymatt and Thomas83514 on May 19th 2020 after a decision was made to rebrand the high performing Golden Guardians army into the historic Water Vikings. In their return week, the Water Vikings were able to reach 8th on the highly competitive Universal Top Twenty Armies. On May 26th 2020, CP Army Legend Koloway was inaugurated as the seventh leader of the generation, however this was soon followed by his departure only two days later, along with the departure of generation-founders Adden and Tymatt. Any concerns that may have arisen from these sudden departures were rapidly quelled by the induction of Water Viking & CPA Veteran and Second-in-Command Zoomey as the newest Water Viking Leader, who began to perform excellently in his position. However controversy struck the Water Vikings once again on June 17th when Buddy, leader and legend of the army, was discovered to have been multilogging and soon resigned from leadership. The army showed great resilience in the face of controversy however and were able to reach the quarter-finals of the Legends Cup X tournament which saw them jump to 7th place on the Universal Top Twenty. During this early period they consistently maxed sizes of 35+.
The First Templar War
On June 19th, Water Viking leaders made the fateful decision to join the People's Imperial Confederation in their war against the Templars of CP. Soon dubbed the "Confederation War", this conflict soon sprouted into a large conflict primarily between the Water Vikings and the Templars while involving various smaller armies including but not limited to the Red Ravagers, Marines, Golden Troops and PZF. On June 21st Water Viking Second-in-Command and CPA Veteran Fedd76 was promoted to the rank of Leader to further bolster the strong leadership team. The first two and only two battles in the WV-Templars war occurred on June 20th and June 22nd. The Water Vikings successfully captured Templars server White House on June 20th, before defending it two days later. After mortally wounding Templar morale, the war reached a conclusion with the Frostbite Agreement, which saw an end to hostilities between the Water Vikings and the Templars while securing a solid victory for the Water Vikings in their first war since returning. The conclusion of the war saw the promotion of Second-in-Command Blueysib6 to Leader, along with the stepping down of Thomas83514 on July 5th.

The Eagre Foray
On July 4th 2020, the Water Viking leaders released a public condemnation titled "A Condemnation of SWAT" which saw accusations of SWAT leaders engaging in troopstealing from the Water Vikings as well as their allies with Leader Pjayo admitting he was prepared to jump into a war with SWAT over the matter. This event would set the stage for the eventual war dubbed "The Eagre Foray", marking the beginning of stiff tensions between the two armies.
BIA Conflict and Second CPPS Generation
(TBA)

Leader Chronicle: (Water Vikings)[6]
Original CP Era (2010-2016)
Created by Jed Pen and Zak.
1st Leader: Jed Pen
1st Leader: Zak
2nd Leader: Teh Kitteh
3rd Leader: Kkabc123
4th Leader: Zak (2)
4th Leader: Soccerman179
5th Leader: Charizard58
6th Leader: Andre
7th Leader: Charizard58 (2)
8th Leader: Ajman9011
9th Leader: Sledderboy*
10th Leader: Bepboy9
10th Leader: Zak (2)
11th Leader: Josephp3
11th Leader: Twitchy543
12th Leader: Kingfunks4
13th Leader: Tylund1
13th Leader: Floppy50611
14th Leader: Supratk
15th Leader: Bepboy9 (2)
15th Leader: Tylund1 (2)
16th Leader: Braveboy
17th Leader: Jed Pen (2)
17th Leader: Zak (3)
18th Leader: Bepboy9 (3)
19th Leader: Icey Cold27
20th Leader: Zak (4)
20th Leader: Dashing Snow
20th Leader: Bluesockwa1
21st Leader: Change
22nd Leader: Tylund1(3)
23rd Leader: Freezie
24th Leader: Aaronstone
25th Leader: Tap Dancer36
26th Leader: Twitchy543
27th Leader: Carl
28th Leader: Glace
29th Leader: Adster
30th Leader: Pjayo
31st Leader: Revan/Totidile (2)
32nd Leader: Buddy (4)
33rd Leader: Stromae (2)
34th Leader: Rose (2)
35th Leader: Tax1
36th Leader: Adden
37th Leader: Hulk
38th Leader: Tymatt
39th Leader: Tes7 (2)
40th Leader: Mid
41st Leader: Crazy
42nd Leader: Jack283 (2)
43rd Leader: Katie (2)
44th Leader: Astro
45th Leader: Jack
46th Leader: Bounce
CPPS Era (2020-present)
Revived by Kingfunks4, Pjayo, Buddy, Adden, Tymatt and Thomas83514
47th Leader: Adden (2)
48th Leader: Buddy (2)
49th Leader: Pjayo (2)
50th Leader: Tymatt (2)
51st Leader: Thomas83514
52nd Leader: Kingfunks4
53th Leader: Koloway
54th Leader: Zoomey (2)
55th Leader: Fedd76 (3)
56th Leader: Blueysib6
57th Leader: Change
58th Leader: Clifford
59th Leader: ManuGinobili (2)
60th Leader: Revan/Totidile
61st Leader: Chainpro
62nd Leader: Jack/King Hazard
63rd Leader: Guncotton
64th Leader: Potassium
65th Leader: Vivala
66th Leader: Superhero123
67th Leader: Hydro21
68th Leader: Moses106
69th Leader: Adden (3)
70th Leader: Buddy (3)
71st Leader: Mistymoonlake
72nd Leader: Oreo
73rd Leader: Aaronstone42
74th Leader: Shinde
Notes and references