Jurassic World: Dominion Dominates Fandom Wikis - The Loop
Play Sound
Zuke is a Club Penguin Army Legend
This article is about a figure in the army community who has achieved the title of 'Army Legend', whether major or small-medium.
Frozen Zuke, sometimes shortened to just Zuke, is a former army leader who would most notably serve as leader of the Special Weapons and Tactics Team and Ice Warriors armies. He was eventually inducted as an Army Legend in 2020 for his great contributions to armies as a whole.
Early History
Early Career (2008)
Zuke would initially be recruited into the Army of Club Penguin in 2008 under the alias of Nice907. He never attended events. However, he was still able to receive promotions throughout his time. Not much else is known about his beginnings.
SWAT and DW Career (2013 - 2017)
Zuke would formally begin his army career in 2013. He would first join SWAT in late 2013 and was able to rise through the ranks. Zuke was personally mentored under SWAT Creator Ganger90. Zuke temporarily joined the Dark Warriors and was able to rank up to Leader in Training under the leadership of xxToysoldier. However, Zuke returned to SWAT before the shut-down of Club Penguin. He was able to lead SWAT to consistent maxes of 35+ and gain consistent placings in the final two top tens. During one occasion, Zuke, Badboy and Ganger90 were able to get SWAT to max over 60 and place first on the major top ten.
Golds (2014)
While Zuke was still in SWAT, he would join the Golds army under the leadership of Andrew24 in early 2014. Within a week, Zuke was able to climb his way to Fourth-in-Command.
Wild Ninjas (2016)
While leading SWAT, Zuke would become the 6th leader of the Spanish-speaking small-medium army of Wild Ninjas in 2016. Zuke was able to essentially build it from the ground up and get Wild Ninjas into the major top ten, despite barely speaking any Spanish. He would earn legend status in the Wild Ninjas shortly after his retirement in 2016.
CPPS Era
Rangers (2017)
Around in 2017, Zuke, Ganger90, and Huzma all decided to form the first native-CPR army called the Rangers. During Zuke's leadership, Rangers would hit maximum sizes of 20+ and would become a big player in CPR armies. Zuke's Rangers shares credit with Ehroyals81's Underground Mafias Army for being the first armies on Club Penguin Rewritten. Zuke would later advise and oversee future iterations of the Rangers.
Return to SWAT (2020)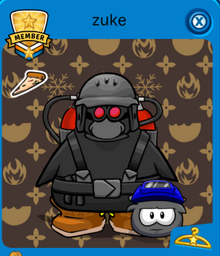 In April of 2020, Zuke was able to reopen SWAT on Club Penguin Online with the permission of Ganger90. Under Zuke's Leadership, SWAT was able to reach claimed maximums of 100+. Zuke also created a "Red SWAT" subdivision by adding his own custom items into Club Penguin Online Doon after reopening, Zuke would drag SWAT into the Badboy War of 2020, helping Ice Warriors, Dark Warriors, Golds, and Redemption Force. Zuke would lead alongside Sweater, Jaylen and Cargo and together they had a very successful run. He was eventually removed from the army due to an internal conflict with Badboy, but now bears the titles of "SWAT legend" and "SWAT Godfather" and set up a "purple SWAT" subdivision.
Ice Warriors (2020)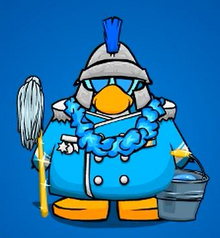 After Zuke's removal from SWAT, he would join Ice Warriors for leader alongside Iceyfeet1234, Ben, Madhav, Agent 11, Regan, and Shinde. Zuke went on to lead them to the semi-finals in the Legends Cup X tournament. Under Zuke's reign as leader the Ice Warriors, they were able to consistently gain maximum sizes of over 100+ and maintained the number one spot in major top ten. They would eventually peak at a maximum of around 125 Penguin on Club Penguin Armies the Game. Eventually, Zuke decided to retire from the Ice Warriors leadership and armies as a whole to focus on his education. He held a last practice battle with the Help Force, in which Ice Warriors defeated them 3-0.
Contributions to the Community
Within the year 2020, Zuke contributed to the army community by creating numerous custom items for  Club Penguin Online and rooms for and Club Penguin Armies: The Game. These promoted past army leaders/figures, as well as to promote armies within their respectful CPPS. However, there was a fallout and Zuke's creations were removed from CPARMIES.NET's CPPS after drama involving currently unconfirmed allegations of bribery.
Accomplishments
Held legendary status in 4 armies (Wild Ninjas, Ice Warriors, Special Weapons And Tactics and Rangers of CPR).
Helped innovate the concept of army medals with graphic plaques in the Ice Warriors, inspired by the medal concept of the Army of Club Penguin during original-CPA, influencing other organizations and armies including Club Penguin Army Hub.
Creating custom made items, rooms and other assets that have been utilized by the Ice Warriors, Special Weapons And Tactics, the Doritos of Club Penguin, the Rebel Penguin Federation, Golds, Club Penguin Online,

Club Penguin Armies: The Game

and the Dark Warriors.
Club Penguin Army Central Biggest Noob 2014.
Quotes
"Get the harpoons"
"Stay positive. Shoutout to the real ones you know who you are."
"that one time I made a strip club for a cpps"
Gallery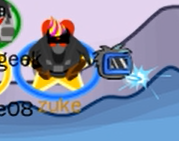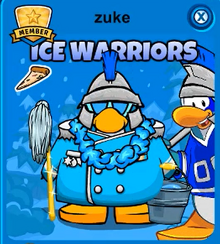 Custom Rooms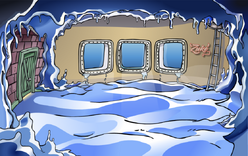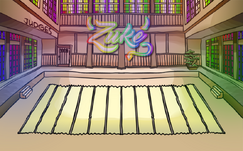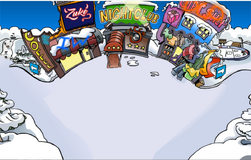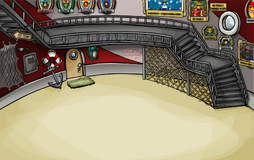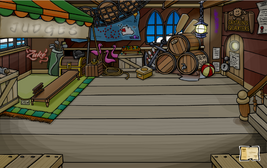 Custom Items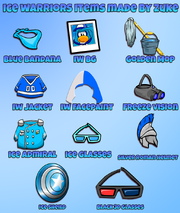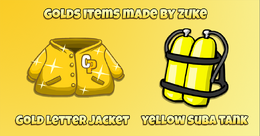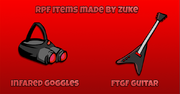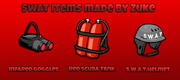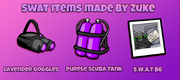 Maxing 100+